Lincoln Corsair: Engine Cooling - 2.0L EcoBoost (177kW/240PS) – MI4 / Removal and Installation - Degas Bottle
Special Tool(s) / General Equipment
Fluid Suction Gun
Hose Clamp Remover/Installer
Locking Pliers
Removal

WARNING: Always allow the engine to cool before opening the cooling system. Do not unscrew the coolant pressure relief cap when the engine is operating or the cooling system is hot. The cooling system is under pressure; steam and hot liquid can come out forcefully when the cap is loosened slightly. Failure to follow these instructions may result in serious personal injury.
NOTE: Removal steps in this procedure may contain installation details.




WARNING: When releasing the cooling system pressure, cover the coolant expansion tank cap with a thick cloth.

Release the cooling system pressure by slowly turning the degas bottle cap between 2 and 3 turns and remove the degas bottle cap.

Using general tools, clamp the lower coolant hose and syphon the engine coolant from the degas bottle.
Use the General Equipment: Fluid Suction Gun
Use the General Equipment: Locking Pliers



Detach the coolant hose retainer.


Release the clamps and disconnect the coolant hoses.
Use the General Equipment: Hose Clamp Remover/Installer
Remove the bolts and the degas bottle support bracket.
Torque: 35 lb.ft (47.5 Nm)
Release the tabs and remove the degas bottle.

Installation
To install, reverse the removal procedure.

Fill the degas bottle with the recommended coolant mixture and fill level.
Refer to: Specifications (303-03A Engine Cooling - 2.0L EcoBoost (177kW/240PS) – MI4, Specifications).

Categories
Locating the Rear View Camera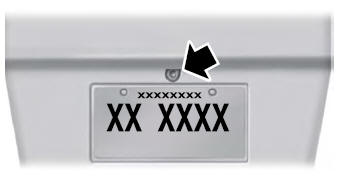 The rear view camera is on the tailgate.
Locating the Front View Camera
Copyright © 2022 www.licorsair.com