Lincoln Corsair: Engine / Fuel Charging and Controls - Turbocharger - 2.0L EcoBoost (177kW/240PS) – MI4
Removal Remove the charge air cooler (CAC) outlet pipe. Refer to: Charge Air Cooler (CAC) Outlet Pipe (303-12A Intake Air Distribution and Filtering - 2...
2.0L EcoBoost Item Description 1 Turbocharger 2 Turbocharger oil supply tube 3 Turbocharger coolant supply tube 4 Turbocharger oil return tube 5 Turbocharger coolant return tube ..
Other information:
WARNING: Batteries normally produce explosive gases which can cause personal injury. Therefore, do not allow flames, sparks or lighted substances to come near the battery. When working near the battery, always shield your face and protect your eyes. Always provide correct ventilation. WARNING: Keep batteries out of reach of children. Batteries contain sulfuric acid. Avoid contact with ski..
Special Tool(s) / General Equipment Strap Wrench Materials Name Specification Motorcraft® Silicone Brake Caliper Grease and Dielectric CompoundXG-3-A ESA-M1C200-AESE-M1C171-A Removal Drain the cooling system. Refer to: Engine Cooling System Draining, Vacuum Filling and Bleeding (303-03B Engine Cooling - 2.3L EcoBoost (199kW/270PS), General Procedures..
Categories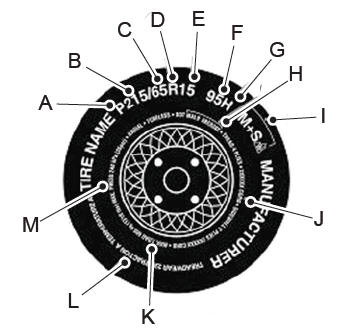 P215/65R15 95H is an example of a tire size, load index and speed rating. The definitions of these items are listed below. (Note that the tire size, load index and speed rating for your vehicle may be different from this example.)
P: Indicates a tire, designated by the Tire and Rim Association, that may be used for service on cars, sport utility vehicles, minivans and light trucks. Note: If your tire size does not begin with a letter this may mean it is designated by either the European Tire and Rim Technical Organization or the Japan Tire Manufacturing Association. 215: Indicates the nominal width of the tire in millimeters from sidewall edge to sidewall edge. In general, the larger the number, the wider the tire. 65: Indicates the aspect ratio which gives the tire's ratio of height to width. R: Indicates a radial type tire. 15: Indicates the wheel or rim diameter in inches. If you change your wheel size, you will have to purchase new tires to match the new wheel diameter. 95: Indicates the tire's load index. It is an index that relates to how much weight a tire can carry. You may find this information in your owner's manual. If not, contact a local tire dealer.