Lincoln Corsair: Child Safety / Child Safety Locks
When the child safety locks are set, the rear doors cannot be opened from the inside.
Child safety lock location.
Manual lock location.
The child safety locks are in the latching area of each rear door. Each lock must be set separately.
Left-Hand Side
Turn it clockwise to switch the child lock on and counterclockwise to switch it off.
Right-Hand Side
Turn it counterclockwise to switch the child lock on and clockwise to switch it off.
WARNING: Do not place a rearward facing child restraint in front of an active airbag. Failure to follow this instruction could result in personal injury or death...
Other information:
Special Tool(s) / General Equipment 303-1249Valve Spring CompressorTKIT-2006UF-FLMTKIT-2006UF-ROW 303-1567Sizer, Teflon SealTKIT-2010C-FLM 303-300 (T87C-6565-A) Set, Valve Spring CompressorTKIT-1988-FESTIVAT88C-1000-STTKIT-1988-TRACERTKIT-2009TC-F 303-350 (T89P-6565-A) Compressor, Valve SpringTKIT-1990-LMHTKIT-1989-FTKIT-1989-FMTKIT-1989-FLM 303-472 (T94P-65..
Lubricants, Fluids, Sealants and Adhesives Vehicles Built On Or Before: 31-December-2019 NAME SPECIFICATION FILL CAPACITY Motorcraft® Orange Concentrated Antifreeze/Coolant / VC-3-B WSS-M97B44-D 8.7 qt (8.2L) Motorcraft® Orange Prediluted Antifreeze/Coolant / VC-3DIL-B WSS-M97B44-D2 8.7 qt (8.2L) ..
Categories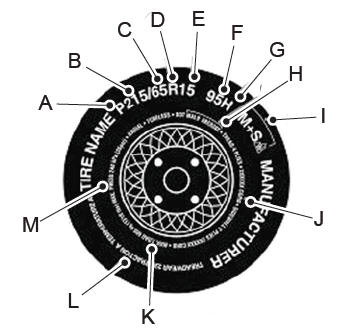 P215/65R15 95H is an example of a tire size, load index and speed rating. The definitions of these items are listed below. (Note that the tire size, load index and speed rating for your vehicle may be different from this example.)
P: Indicates a tire, designated by the Tire and Rim Association, that may be used for service on cars, sport utility vehicles, minivans and light trucks. Note: If your tire size does not begin with a letter this may mean it is designated by either the European Tire and Rim Technical Organization or the Japan Tire Manufacturing Association. 215: Indicates the nominal width of the tire in millimeters from sidewall edge to sidewall edge. In general, the larger the number, the wider the tire. 65: Indicates the aspect ratio which gives the tire's ratio of height to width. R: Indicates a radial type tire. 15: Indicates the wheel or rim diameter in inches. If you change your wheel size, you will have to purchase new tires to match the new wheel diameter. 95: Indicates the tire's load index. It is an index that relates to how much weight a tire can carry. You may find this information in your owner's manual. If not, contact a local tire dealer.