Lincoln Corsair: Engine - 2.0L EcoBoost (177kW/240PS) – MI4 / Description and Operation - Engine - Overview
Overview
The 2.0L GTDI engine which may also be described with these terms:
GTDI - Gasoline turbocharged direct injection
DI - Direct injection
TIVCT - Twin independent Variable Camshaft Timing
I4 - 4 cylinder engine
16 V - 4 valves per cylinder
4V - 4 valves per cylinder, 16 valves total
2.0L GTDI (240PS):
2.0L - Engine displacement
240PS - Engine power rating
The 2.0L Gasoline Turbocharged Direct Injection (GTDI) 4-cylinder engine has the following features:
Dual overhead camshafts
Four valves per cylinder
Composite intake manifold
Aluminum cylinder head
Aluminum cylinder block
Twin independent Variable Camshaft Timing (Ti-VCT)
External cooled EGR
Engine Identification
Always refer to these labels when installation of new parts is necessary or when checking engine calibrations. The engine parts often differ within a CID family. Verification of the identification codes will make sure the correct parts are obtained. These codes contain all the pertinent information relating to the dates, optional equipment and revisions.
Engine Code Information Label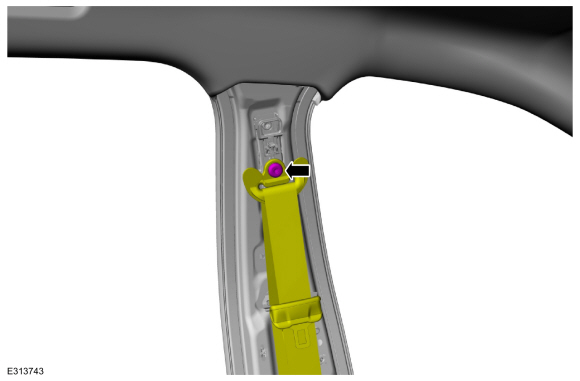 | Item | Description |
| --- | --- |
| 1 | Engine part number |
| 2 | Valencia Engine Plant |
| 3 | Plant code |
| 4 | Engine serial number |
| 5 | Engine displacement |
| 6 | Engine build date YYM(A-L)DD |
Engine Cylinder Identification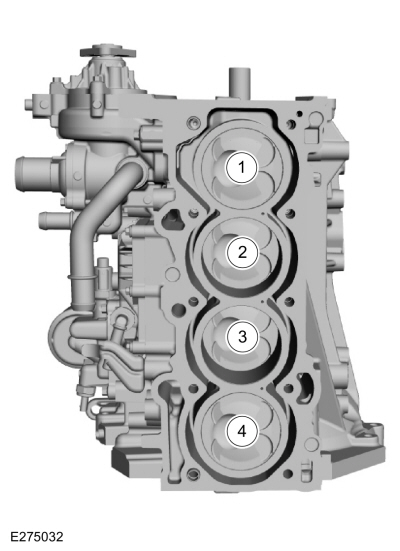 Oil Flow Diagram
Lubrication System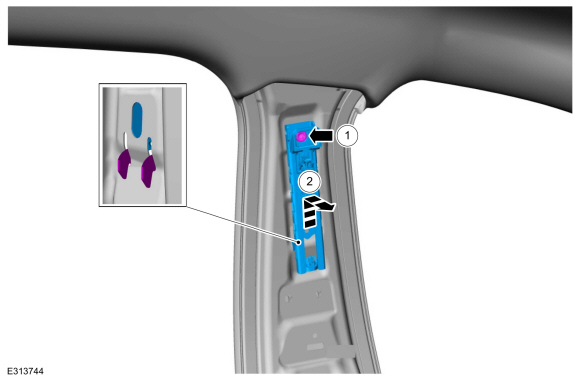 | Item | Description |
| --- | --- |
| Yellow | High pressure oil flow |
| Blue | Oil return/low pressure oil flow |
For more detailed information on oil flow diagram, View
Lubrication System
The engine lubrication system is of the force-feed type in which oil is supplied under full pressure to the crankshaft, connecting rod bearings, timing chain tensioners, camshaft bearing caps and VCT solenoids. The flow of oil to the valve tappets and valve train is controlled by a restricting orifice located in the cylinder head gasket.
The lubrication system is designed to provide optimum oil flow to critical components of the engine through its entire operating range.
The heart of the system is a continuously variable vane style oil pump, regulated with a pressure control solenoid valve.
Generically, this design operates as follows:
Maximum oil pump displacement has been selected to provide adequate volume to insure required pressure at both hot idle and maximum speed.
An internal relief valve protects the system from excessive pressure during high viscosity conditions. When activated, it vents bypassed oil back to the oil pan.
In conditions other than hot idle and maximum speed, system flow and pressure are controlled with a solenoid valve, receiving commands from the powertrain control module (PCM), to deliver correct oil pressure for all operation conditions based on engine speed, load, and oil temperature.
The solenoid valve regulates oil pump performance by controlling oil pressure in the internal control chamber of the oil pump.
Ti-VCT
The Ti-VCT system allows variable control of the valves that optimizes combustion at full load providing improved power and low speed torque (broadening the torque curve) which enables variable valve overlap which provides better fuel economy and emissions and provides optimized cold start operation with improved exhaust emissions.
Valve Train
The valve train uses Direct Acting Mechanical Buckets (DAMB). The camshaft lobes are positioned directly above mechanical buckets which are positioned on top of the valves.
Engine Item Specification Displacement 122 in³ ( 2 L) No. of cylinders 4 Bore 3...
Engine — External Components Item Part Number Description 1 85018501 Coolant pump 2 85098509 Coolant pump pulley 3 9G4389G438 Turbocharger 4 9G4799G479 Turbocharger heat shield 5 94489448 Turbocharger gasket 6 8B5358B535 Coolant outlet tube 7 9C3749C374 High-pressure fuel pump cover 8 9D3769D376 Hi..
Other information:
Special Tool(s) / General Equipment 303-103 (T74P-6375-A) Holding Tool, FlywheelT74P-77000-ATKIT-2009TC-F Removal With the vehicle in NEUTRAL, position it on a hoist. Refer to: Jacking and Lifting - Overview (100-02 Jacking and Lifting, Description and Operation). Remove the automatic transmission. NOTE: Do not reuse the flexplate bolt..
Adjustment Cycle and park the rear window wiper. Verify the rear wiper blade is positioned at the first defroster line located on the rear window glass. If necessary, remove the rear wiper pivot arm and reposition it to line up with the first defroster line located on the rear window glass. Refer to: Electronic Engine Controls (303-14B Electro..
Categories
WARNING: If the tire does not inflate to the recommended tire pressure within 15 minutes, stop and call roadside assistance.
WARNING: The power plug may get hot after use and should be handled carefully when unplugging.
Check the air pressure of your tires as follows: