Lincoln Corsair: Engine Emission Control - 2.0L EcoBoost (177kW/240PS) – MI4 / Removal and Installation - Exhaust Gas Recirculation (EGR) Coolant Outlet Temperature Sensor
Materials
Name
Specification
Motorcraft® Silicone Brake Caliper Grease and Dielectric Compound
XG-3-A
ESA-M1C200-A
ESE-M1C171-A

Removal
NOTE: Removal steps in this procedure may contain installation details.
NOTE: Do not pull the engine appearance cover forward or sideways to remove. Failure to press straight upward on the underside of the cover at the attachment points may result in damage to the cover or engine components.

Remove the engine appearance cover nut.


Place your hand under the engine appearance cover at each grommet location and push straight up to release each grommet from the studs.


After all of the grommets have been released from the studs, remove the appearance cover from the engine.

Disconnect the electrical connector.

NOTE: When removing the sensor, use a suitable spanner on both the sensor body and the sensor mounting boss, to prevent the removal force from damaging the EGR tube.

Remove the EGR coolant outlet temperature sensor.

Lubricate the o-ring seal with clean engine oil. Replace the o-ring if necessary.

Installation
To install, reverse the removal procedure.

NOTE: Lubricating the grommets with silicone grease aids in the installation of the engine appearance cover, and any future removal and installation of the cover.

Lubricate each grommet with silicone grease.
Material: Motorcraft® Silicone Brake Caliper Grease and Dielectric Compound / XG-3-A (ESA-M1C200-A) (ESE-M1C171-A)

If the engine appearance cover stud bolt is loosened or removed, it must be installed/tightened into the valve cover.
Torque: 62 lb.in (7 Nm)

Position the engine appearance cover onto the engine with the grommets aligned with the studs.


Press down on the engine appearance cover at each grommet location to attach the grommets onto the studs.


Install the engine appearance cover nut.
Torque: 44 lb.in (5 Nm)
Categories
Locating the Rear View Camera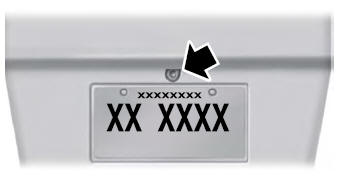 The rear view camera is on the tailgate.
Locating the Front View Camera
Copyright © 2022 www.licorsair.com