Lincoln Corsair: Rear Electric Drive Assembly / General Procedures - Electric Drive Assembly Strategy Download
Configuration
NOTICE: If the transmission strategy information is not correct, transmission drivability concerns WILL occur. The scan tool verifies the numbers entered are valid and will display a message if the information is not valid. The scan tool will check to verify the file and if the file is present on the WEB Host, the technician may proceed with downloading the file to the ISC (inverter system controller). If the file is not VALID, the scan tool will need to be connected to the PTS (Professional Technician System) server to download the file onto the scan tool from the diagnostics tab - Transmission & AWD strategy.
Connect the scan tool to the PTS server.

Connect the scan tool to the vehicle and start a session.

NOTE: The ISC (inverter system controller) is called the SOBDMB (secondary on-board diagnostic control module B) in the scan tool.

Select the SOBDMB -Electric Motor Resolver Offset Programming.

Using the scan tool, enter the transmission 16-digit serial number and 7-digit service code recorded from the transmission tag.


16 digit serial number


Part number


7 digit service code

The scan tool will automatically download the strategy file to the ISC (inverter system controller). The scan tool will display a message when it is finished downloading the data that states that the file was downloaded successfully.

If the scan tool cannot connect to the PTS server from the website, the partial 7-digit strategy alone can be entered for download.

Special Tool(s) / General Equipment Fluid Container Draining With the vehicle in NEUTRAL, position it on a hoist. Refer to: Jacking and Lifting - Overview (100-02 Jacking and Lifting, Description and Operation)...
Special Tool(s) / General Equipment 205-153 (T80T-4000-W) Handle 205-990Installer, Axle SealTKIT-2012A-FLTKIT-2012A-ROW Removal Remove the RH rear halfshaft...
Other information:
Special Tool(s) / General Equipment Punch Removal NOTE: LH (left-hand) side shown, RH (right-hand) side similar. Remove the front door trim panel. Refer to: Front Door Trim Panel (501-05 Interior Trim and Ornamentation, Removal and Installation)...
Component Location Item Part Number Description 1 7A0957A095 Transmission fluid cooler 2 7H4207H420 Transmission fluid cooler tube assembly 3 7P0867P086 Transmission fluid auxiliary pump 4 7A0317A031 Transmission fluid auxiliary pump inlet tube ..
Categories
Locating the Rear View Camera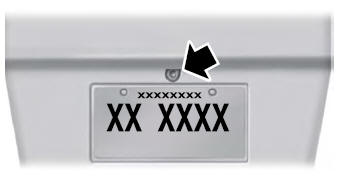 The rear view camera is on the tailgate.
Locating the Front View Camera