Lincoln Corsair: Drive Mode Control / Selecting a Drive Mode. DRIVE MODES
Selecting a Drive Mode
Note: Drive mode changes may not be available when the ignition is off.
Rotate the drive mode dial on the center console to change the drive mode.
DRIVE MODES
Conserve
Enables efficient driving. It helps to deliver maximum fuel efficiency and helps to increase driving range.
Deep Conditions
For crossing terrain that has deformable deep, rutted surfaces such as mud, deep sand or deep snow. Do not use on dry, hard surfaced roads.
Excite
For sporty on-road driving. This mode increases throttle response, provides a sportier exhaust sound and steering feel, along with quicker shifting. The suspension could stiffen, with an emphasis on handling and control. The transmission also holds gears longer, helping your vehicle accelerate faster when shifting gears.
Note: Sportier exhaust sound may not be available depending on vehicle configuration.
Normal
For everyday driving. This mode is a perfect balance of excitement, comfort and convenience. This is the default mode after each ignition cycle.
Preserve EV - Plug-In Hybrid Electric Vehicle (PHEV)
Your vehicle runs the engine as needed to save electric driving range for later use in another drive mode. For example, you first drive at high speeds on open roads where engine operation is appropriate. Later, you drive at low speeds in an urban area where electric only is most efficient.
Pure EV - Plug-In Hybrid Electric Vehicle (PHEV)
This mode provides an electric only driving experience. Your vehicle could accelerate more slowly, and the top speed could reduce. For more power, you can temporarily enable your engine at any time by using one of the following methods:
Press and hold the folder button on the steering wheel when viewing the pure EV information screen. Your vehicle enables the engine as needed, and returns to pure EV after several seconds, or when the vehicle no longer needs the engine.
Press the accelerator pedal fully. A pop-up message appears. Press OK on the steering wheel to activate as needed.
Your vehicle could enable the engine if system conditions require it. An engine enabled message displays if this occurs.
Your engine could enable if the climate control is in a defrost mode and the outside temperature is cold. If the vehicle does not need defrost, select a different climate control mode to permit pure EV.
Your vehicle changes from pure EV mode to normal mode when the vehicle electric range is zero.
Note: When in pure EV mode, your vehicle stays in this mode if there is all electric driving range available and the system does not fault.
Slippery
For less than ideal road conditions, such as snow or ice covered roads. Slippery mode inspires confidence without taking away from driving pleasure. Slippery mode lowers throttle response and optimizes shifting for slippery surfaces.
Note: Using slippery mode on dry hard surfaces could produce some vibration, driveline bind up, and potential excessive tire wear as the intent of this mode is for slippery and loose surfaces.
The system delivers a driving experience through a suite of sophisticated electronic vehicle systems. These systems optimize steering, handling and powertrain response...
Other information:
Adjustment With the vehicle in NEUTRAL, position it on a hoist. Refer to: Jacking and Lifting - Overview (100-02 Jacking and Lifting, Description and Operation). Remove the fasteners and the undershield. Remove the nuts and the bracket. Loosen, but do not remove the roll restrictor fasteners. Verify that the r..
Removal NOTE: LH (left-hand) side shown, RH (right-hand) side similar. NOTE: Removal steps in this procedure may contain installation details. Remove the rear door window regulator and motor. Refer to: Rear Door Window Regulator and Motor (501-11 Glass, Frames and Mechanisms, Removal and Installation). NOTE: The rear door is shown transparent for clarity. D..
Categories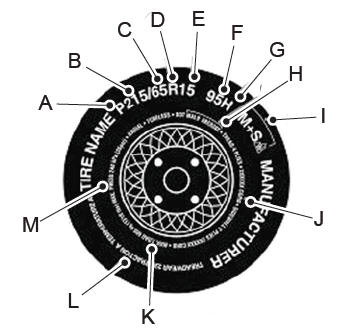 P215/65R15 95H is an example of a tire size, load index and speed rating. The definitions of these items are listed below. (Note that the tire size, load index and speed rating for your vehicle may be different from this example.)
P: Indicates a tire, designated by the Tire and Rim Association, that may be used for service on cars, sport utility vehicles, minivans and light trucks. Note: If your tire size does not begin with a letter this may mean it is designated by either the European Tire and Rim Technical Organization or the Japan Tire Manufacturing Association. 215: Indicates the nominal width of the tire in millimeters from sidewall edge to sidewall edge. In general, the larger the number, the wider the tire. 65: Indicates the aspect ratio which gives the tire's ratio of height to width. R: Indicates a radial type tire. 15: Indicates the wheel or rim diameter in inches. If you change your wheel size, you will have to purchase new tires to match the new wheel diameter. 95: Indicates the tire's load index. It is an index that relates to how much weight a tire can carry. You may find this information in your owner's manual. If not, contact a local tire dealer.