Lincoln Corsair: Capacities and Specifications
Wheel Lug Nut Torque Specifications WARNING: When you install a wheel, always remove any corrosion, dirt or foreign materials present on the mounting surfaces of the wheel or the surface of the wheel hub, brake drum or brake disc that contacts the wheel...
2.0L Drivebelt Routing The long drivebelt is on the first pulley groove closest to the engine. The short drivebelt is on the second pulley groove farthest from engine...
Other information:
Condensation in the Exterior Front Lamps and Rear Lamps Exterior front lamps and rear lamps have vents to accommodate normal changes in air pressure. Condensation can be a natural by-product of this design. When moist air enters the lamp assembly through the vents, there is a possibility that condensation can occur when the temperature is cold...
Special Tool(s) / General Equipment 204-023 (T73T-1217-A) Installer, Wheel Hub Bearing Cup 204-180 (T93P-5493-A) Remover/Installer, BushingTKIT-1993-FLMTKIT-1993-LMTKIT-1993-FM 205-138 (T80T-4000-D) Installer, Drive Pinion Bearing Cup 205-140 (T80T-4000-F) Installer, Drive Pinion Bearing Cup 205-153 (T80T-4000-W) Handle 205-480Installer, Drive Pi..
Categories
Locating the Rear View Camera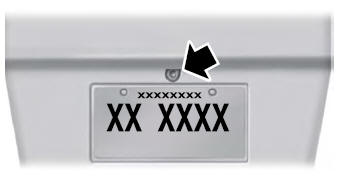 The rear view camera is on the tailgate.
Locating the Front View Camera
Copyright © 2023 www.licorsair.com