Lincoln Corsair: Wheels and Tires / Technical Specifications
Wheel Lug Nut Torque Specifications
WARNING: When you install a wheel, always remove any corrosion, dirt or foreign materials present on the mounting surfaces of the wheel or the surface of the wheel hub, brake drum or brake disc that contacts the wheel. Make sure to secure any fasteners that attach the rotor to the hub so they do not interfere with the mounting surfaces of the wheel. Installing wheels without correct metal-to-metal contact at the wheel mounting surfaces can cause the wheel nuts to loosen and the wheel to come off while your vehicle is in motion, resulting in loss of vehicle control, personal injury or death.

* Torque specifications are for nut and bolt threads free of oil, dirt and rust. Use only Ford recommended replacement fasteners.
Retighten the lug nuts to the specified torque within 100 mi (160 km) after any wheel disturbance (such as tire rotation, changing a flat tire, wheel removal).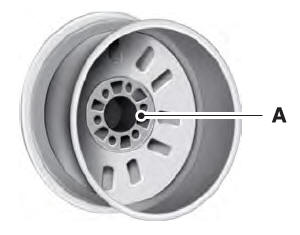 Wheel pilot bore.
Inspect the wheel pilot bore and mounting surface prior to installation. Remove any visible corrosion or loose particles.
WARNING: The tire pressure monitoring system is not a substitute for manually checking tire pressures. You should periodically check tire pressures using a pressure gauge...
Other information:
General Specifications Item Specification Tire Inflation Tires See Safety Certification Label on driver door jamb Wheel Weights Wheel weight type Use a wheel weight manufacturer's rim gauge to determine the correct wheel weight application Torque Specifications ..
WARNING: Service of the high voltage system on this vehicle is restricted to qualified personnel. The required qualifications vary by region. Always observe local laws and legislative directives regarding electric vehicle service. Failure to follow this instruction may result in serious personal injury or death. WARNING: To prevent the risk of high-voltage shock, alway..
Categories
WARNING: If the tire does not inflate to the recommended tire pressure within 15 minutes, stop and call roadside assistance.
WARNING: The power plug may get hot after use and should be handled carefully when unplugging.
Check the air pressure of your tires as follows: