Lincoln Corsair: Engine / Accessory Drive - 2.0L EcoBoost (177kW/240PS) – MI4
Removal NOTICE: The turbocharger compressor vanes can be damaged by even the smallest particles. When removing any turbocharger or engine air intake system component, ensure that no debris enters the system...
Item Description 1 A/C compressor belt 2 Crankshaft pulley 3 Accessory drive belt 4 Accessory drive belt idler pulley 5 Accessory drive belt safety shield 6 Accessory drive belt tensioner 7 Coolant pump 8 Generator 9 Accessory drive bracket 10 A/C compressor ..
Other information:
Materials Name Specification Petroleum Jelly - Removal Remove the main control valve body. Remove the bolt and the fluid transfer pipe. Remove the bolt, the wire harness clip and the OSS sensor. Installation Install the OSS sensor, the bolt and the wire harness clip. Torque:..
WARNING: Service and handling of Pyrotechnic Components is restricted to qualified personnel. The required qualifications vary by region. Always observe local laws and legislative directives regarding Pyrotechnic Components service and handling. Failure to follow this instruction may result in serious personal injury or death. WARNING: Always carry a live airbag with t..
Categories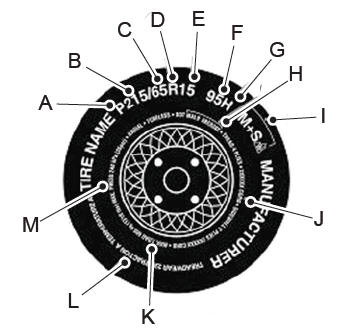 P215/65R15 95H is an example of a tire size, load index and speed rating. The definitions of these items are listed below. (Note that the tire size, load index and speed rating for your vehicle may be different from this example.)
P: Indicates a tire, designated by the Tire and Rim Association, that may be used for service on cars, sport utility vehicles, minivans and light trucks. Note: If your tire size does not begin with a letter this may mean it is designated by either the European Tire and Rim Technical Organization or the Japan Tire Manufacturing Association. 215: Indicates the nominal width of the tire in millimeters from sidewall edge to sidewall edge. In general, the larger the number, the wider the tire. 65: Indicates the aspect ratio which gives the tire's ratio of height to width. R: Indicates a radial type tire. 15: Indicates the wheel or rim diameter in inches. If you change your wheel size, you will have to purchase new tires to match the new wheel diameter. 95: Indicates the tire's load index. It is an index that relates to how much weight a tire can carry. You may find this information in your owner's manual. If not, contact a local tire dealer.