Lincoln Corsair: Tire Sealant and Inflator Kit (IF EQUIPPED) / Tips for Use of the Kit. What to do when a Tire Is Punctured
Tips for Use of the Kit
To ensure safe operation of the kit:
Read all instructions and cautions fully.
Before operating the kit, make sure your vehicle is safely off the road and away from moving traffic. Turn on the hazard lights.
Always set the parking brake to ensure the vehicle doesn't move unexpectedly.
Do not remove any foreign objects, such as nails or screws, from the tire.
When using the kit, leave the engine running (only if the vehicle is outdoors or in a well-ventilated area) so the compressor does not drain the vehicle's battery.
Do not allow the compressor to operate continuously for more than 15 minutes. This will help prevent the compressor from overheating.
Never leave the kit unattended during operation.
Sealant compound contains latex. Those with latex sensitivities should use appropriate precautions to avoid an allergic reaction.
Keep the kit away from children.
Only use the kit when the ambient temperature is between -22°F (-30°C) and 158°F (70°C).
Only use the sealing compound before the use-by date. The use-by date is on a label on the sealant canister and can be seen through the rectangular viewing window on the bottom of the compressor. Check the use-by date regularly and replace the canister when the sealant expires.
Do not store the kit unsecured inside the passenger compartment of the vehicle as it may cause injury during a sudden stop or crash. Always store the kit in its original location.
After sealant use, the tire pressure monitoring system sensor and valve stem on the wheel must be replaced by an authorized Ford dealer.
Operating the kit could cause an electrical disturbance in radio, CD, and DVD player operation.
* When inflation only is required for a tire or other objects, the selector must be in the Air position.
What to do when a Tire Is Punctured
A tire puncture within the tire's tread area can be repaired in two stages with the kit.
In the first stage, the tire will be reinflated with a sealing compound and air. After the tire has been inflated, you will need to drive the vehicle a short distance 4 mi (6 km) to distribute the sealant in the tire.
In the second stage, you will need to check the tire pressure and adjust, if necessary, to the vehicle's specified tire inflation pressure.
Categories
Locating the Rear View Camera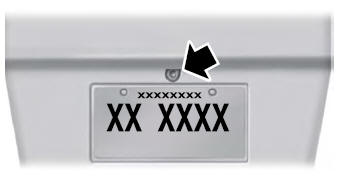 The rear view camera is on the tailgate.
Locating the Front View Camera
Copyright © 2023 www.licorsair.com