Lincoln Corsair: Wheels and Tires / Tire Sealant and Inflator Kit (IF EQUIPPED)
Note: The temporary mobility kit contains enough sealant compound in the canister for one tire repair only. See your authorized Ford dealer for replacement sealant canisters.
The kit is located under the load floor in the trunk. The kit consists of an air compressor to re-inflate the tire and a canister of sealing compound that will effectively seal most punctures caused by nails or similar objects. This kit will provide a temporary tire repair allowing you to drive your vehicle up to 120 mi (200 km) at a maximum speed of 50 mph (80 km/h) to reach a tire service location.
Air compressor (inside)
Selector switch
On and off button
Air pressure gauge
Sealant bottle and canister
Dual purpose hose: air and repair
Tire valve connector
Accessory power plug
Casing/housing
Bike/raft/sports ball adapters
The recommended tire inflation pressures are found on the Tire Label which is located on the B-pillar or the edge of the driver door. This information can also be found on the Safety Compliance Certification Label, affixed to either the door hinge pillar, door-latch post, or the door edge that meets the door-latch post; next to the driver's seating position...
WARNING: Failure to follow these guidelines could result in an increased risk of loss of vehicle control, injury or death. Note: Do not use the kit if a tire has become severely damaged...
Other information:
Automatic Transmission Fluid Check The automatic transmission does not have a transmission fluid dipstick. The automatic transmission does not consume fluid. However, the fluid level should be checked if the transmission is not working properly, for example if the transmission slips or shifts slowly or if you notice some sign of fluid leakage...
Lubricants, Fluids, Sealers and Adhesives-Rear electric drive assembly part number LX68-7A000-AE Specifications Material: Motorcraft® Disconnect Rear Drive Unit Fluid / XY-75W-QL Lubricants, Fluids, Sealers and Adhesives-Rear electric drive assembly part number LX68-7A000-AF or later Specifications ..
Categories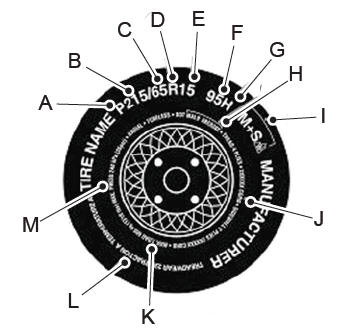 P215/65R15 95H is an example of a tire size, load index and speed rating. The definitions of these items are listed below. (Note that the tire size, load index and speed rating for your vehicle may be different from this example.)
P: Indicates a tire, designated by the Tire and Rim Association, that may be used for service on cars, sport utility vehicles, minivans and light trucks. Note: If your tire size does not begin with a letter this may mean it is designated by either the European Tire and Rim Technical Organization or the Japan Tire Manufacturing Association. 215: Indicates the nominal width of the tire in millimeters from sidewall edge to sidewall edge. In general, the larger the number, the wider the tire. 65: Indicates the aspect ratio which gives the tire's ratio of height to width. R: Indicates a radial type tire. 15: Indicates the wheel or rim diameter in inches. If you change your wheel size, you will have to purchase new tires to match the new wheel diameter. 95: Indicates the tire's load index. It is an index that relates to how much weight a tire can carry. You may find this information in your owner's manual. If not, contact a local tire dealer.