Lincoln Corsair: Engine Cooling - 2.0L EcoBoost (177kW/240PS) – MI4 / Specifications
Lubricants, Fluids, Sealants and Adhesives Vehicles Built On Or Before: 31-December-2019
| | | |
| --- | --- | --- |
| NAME | SPECIFICATION | FILL CAPACITY |
| Motorcraft® Orange Concentrated Antifreeze/Coolant / VC-3-B | WSS-M97B44-D | 8.7 qt (8.2L) |
| Motorcraft® Orange Prediluted Antifreeze/Coolant / VC-3DIL-B | WSS-M97B44-D2 | 8.7 qt (8.2L) |
| Motorcraft® Premium Cooling System Flush VC-1 | ESR-M14P7-A | - |
Lubricants, Fluids, Sealants and Adhesives Vehicles Built On Or After: 01-January-2020 and all service
| | | |
| --- | --- | --- |
| NAME | SPECIFICATION | FILL CAPACITY |
| Motorcraft® Yellow Concentrated Antifreeze/Coolant VC-13-G | WSS-M97B57-A1 | 8.7 qt (8.2L) |
| Motorcraft® Yellow Prediluted Antifreeze/Coolant VC-13DL-G | WSS-M97B57-A2 | 8.7 qt (8.2L) |
| Motorcraft® Premium Cooling System Flush VC-1 | ESR-M14P7-A | - |
Antifreeze
| Percent Antifreeze/Coolant to Distilled Water | Freeze Protection |
| --- | --- |
| 42/58 | -14.8 °F ( -26 °C) |
| 58/42 (Extreme Cold Climates) | -57.9 °F ( -50 °C) |
Cooling System Pressure
| | |
| --- | --- |
| Complete cooling system maximum pressure | 150 kPa (21.7 psi) |
| Pressure relief cap | 120 kPa (17.4 psi) to 150 kPa (21.7 psi) |
| Radiator pressure test (removed from the vehicle) | 138 kPa (20 psi) |
Thermostat Opening Temperatures
| | |
| --- | --- |
| Starts to open | 80°C-84°C (176°F-183.2°F) |
| Fully open | 97°C (206.6°F) |
NOTE: Coolant temperature will vary with ambient temperature and load. Temperatures shown are for ambient temperature of 38° C (100° F). Red arrows indicate a temperature over 90° C (194° F), Orange arrows indicate a temperature of approximately 90° C (194° F), Blue arrows indicate a temperature below 90° C (194° F)...
Other information:
Special Tool(s) / General Equipment Resistance Spotwelding Equipment Scraper for Straight Edges Hot Air Gun Spot Weld Drill Bit Locking Pliers Materials Name Specification Metal Bonding AdhesiveTA-1, TA-1-B, 3M™ 08115, LORD Fusor® 108B, Henkel Teroson EP 5055 - Seam SealerTA-2-B, 3M™ 08308, LORD Fusor® 803DTM - Removal &nbsp..
Crash Sensors and Airbag Indicator WARNING: Modifying or adding equipment to the front end of your vehicle (including hood, bumper system, frame, front end body structure, tow hooks and hood pins) may affect the performance of the airbag system, increasing the risk of injury. Do not modify or add equipment to the front end of your vehicle. Your vehicle has a collection of crash and occupan..
Categories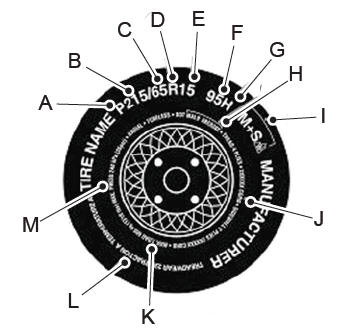 P215/65R15 95H is an example of a tire size, load index and speed rating. The definitions of these items are listed below. (Note that the tire size, load index and speed rating for your vehicle may be different from this example.)
P: Indicates a tire, designated by the Tire and Rim Association, that may be used for service on cars, sport utility vehicles, minivans and light trucks. Note: If your tire size does not begin with a letter this may mean it is designated by either the European Tire and Rim Technical Organization or the Japan Tire Manufacturing Association. 215: Indicates the nominal width of the tire in millimeters from sidewall edge to sidewall edge. In general, the larger the number, the wider the tire. 65: Indicates the aspect ratio which gives the tire's ratio of height to width. R: Indicates a radial type tire. 15: Indicates the wheel or rim diameter in inches. If you change your wheel size, you will have to purchase new tires to match the new wheel diameter. 95: Indicates the tire's load index. It is an index that relates to how much weight a tire can carry. You may find this information in your owner's manual. If not, contact a local tire dealer.