Lincoln Corsair: Automatic Transmission - 8-Speed Automatic Transmission – 8F35/8F40 / Description and Operation - F Clutch
F Clutch Exploded View
| | |
| --- | --- |
| Item | Description |
| 1 | Center support |
| 2 | F (2, 8) clutch piston seal |
| 3 | F (2, 8) clutch piston |
| 4 | F (2, 8) clutch piston return spring |
| 5 | Snap ring |
| 6 | Reaction/overdrive planetary sun gear and shell assembly |
| 7 | F (2, 8) clutch steel plates |
| 8 | F (2, 8) clutch fiber plates |
| 9 | F (2, 8) clutch pressure plate |
| 10 | Transmission case |
F Clutch Hydraulic Circuits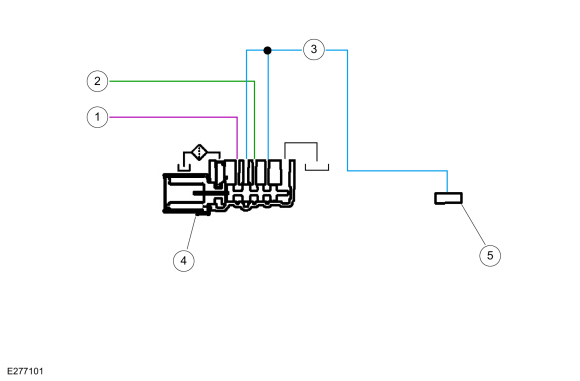 | | |
| --- | --- |
| Item | Description |
| 1 | Pump output |
| 2 | Clutch exhaust |
| 3 | Control |
| 4 | SSF /control valve |
| 5 | Mechanical F (2, 8) clutch |
F Clutch Hydraulic Operation
Line pressure is supplied to the F (2, 8) clutch control valve. As SSF turns on, it moves the F (2, 8) clutch control valve allowing regulated line pressure to flow to the mechanical F (2, 8) clutch.
TCC Hydraulic Passages 1 Inspect the pump to transmission case hydraulic passages and seals. 2 Inspect the transmission case to main control hydraulic passages...
Other information:
Diagnostic Trouble Code (DTC) Chart Diagnostics in this manual assume a certain skill level and knowledge of Ford-specific diagnostic practices.REFER to: Diagnostic Methods (100-00 General Information, Description and Operation). Module DTC Description Action PCM P04DB:00 Crankcase Ventilation System Disconnected: No Sub Type Information GO to Pinpoint Test HG PCM P051A:00..
Active guide lines. Centerline. Fixed guide line: Green zone. Fixed guide line: Yellow zone. Fixed guide line: Red zone. Rear bumper. Active guide lines only show with fixed guide lines. Turn the steering wheel to point the guide lines toward an intended path. If the steering wheel position changes when reversing, your vehicle could deviate from the intended path. The fixed and activ..