Lincoln Corsair: Automatic Transmission - 8-Speed Automatic Transmission – 8F35/8F40 / Description and Operation - F Clutch
F Clutch Exploded View
| | |
| --- | --- |
| Item | Description |
| 1 | Center support |
| 2 | F (2, 8) clutch piston seal |
| 3 | F (2, 8) clutch piston |
| 4 | F (2, 8) clutch piston return spring |
| 5 | Snap ring |
| 6 | Reaction/overdrive planetary sun gear and shell assembly |
| 7 | F (2, 8) clutch steel plates |
| 8 | F (2, 8) clutch fiber plates |
| 9 | F (2, 8) clutch pressure plate |
| 10 | Transmission case |
F Clutch Hydraulic Circuits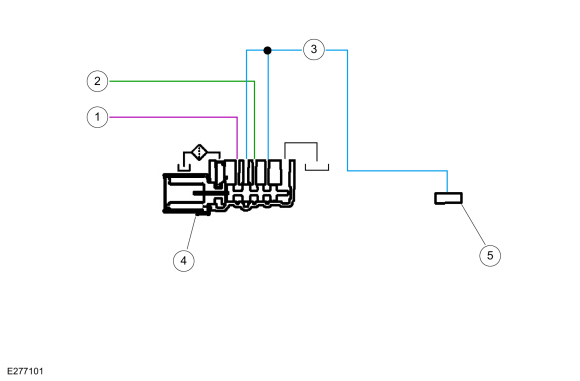 | | |
| --- | --- |
| Item | Description |
| 1 | Pump output |
| 2 | Clutch exhaust |
| 3 | Control |
| 4 | SSF /control valve |
| 5 | Mechanical F (2, 8) clutch |
F Clutch Hydraulic Operation
Line pressure is supplied to the F (2, 8) clutch control valve. As SSF turns on, it moves the F (2, 8) clutch control valve allowing regulated line pressure to flow to the mechanical F (2, 8) clutch.
TCC Hydraulic Passages 1 Inspect the pump to transmission case hydraulic passages and seals. 2 Inspect the transmission case to main control hydraulic passages...
Other information:
Interior Mirror WARNING: Do not adjust the mirrors when your vehicle is moving. This could result in the loss of control of your vehicle, serious personal injury or death. Note: Do not clean the housing or glass of any mirror with harsh abrasives, fuel or other petroleum or ammonia-based cleaning products...
Transmission Overview The Electronically Controlled Continuously Variable Transmission (eCVT) has the following internal components: Traction Motor Generator/Starter High voltage terminals Pump and filter assembly Park lock actuator TFT sensor Planetary carrier Differential carrier High voltage inductor Transmission fluid auxiliary pump ..