Lincoln Corsair: Automatic Transmission - 8-Speed Automatic Transmission – 8F35/8F40 / Description and Operation - E Clutch
E Clutch Exploded View
| | |
| --- | --- |
| Item | Description |
| 1 | Torque converter |
| 2 | Input shaft |
| 3 | Reaction carrier |
| 4 | Snap ring |
| 5 | E (5, 6, 7, 8) clutch pressure plate |
| 6 | E (5, 6, 7, 8) clutch fiber plates |
| 7 | E (5, 6, 7, 8) clutch steel plates |
| 8 | Sun gear |
| 9 | Thrust bearing |
| 10 | Hub |
| 11 | Thrust bearing |
| 12 | Snap ring |
| 13 | E (5, 6, 7, 8) clutch balance piston |
| 14 | E (5, 6, 7, 8) clutch balance piston return spring |
| 15 | E (5, 6, 7, 8) clutch piston |
| 16 | E (5, 6, 7, 8) clutch piston seals |
| 17 | B (4, 6, R)/E (5, 6, 7, 8) clutch hub |
E Clutch Hydraulic Circuits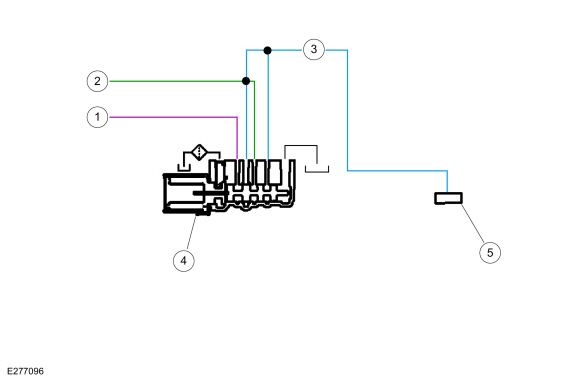 | | |
| --- | --- |
| Item | Description |
| 1 | Line pressure |
| 2 | Clutch exhaust |
| 3 | Control |
| 4 | SSE /control valve |
| 5 | Mechanical E (5, 6, 7, 8) clutch |
E Clutch Hydraulic Operation
Line pressure is supplied to the E (5, 6, 7, 8) clutch control valve. As SSE turns on, it moves the E (5, 6, 7, 8) clutch control valve allowing regulated line pressure to flow to the mechanical E (5, 6, 7, 8) clutch.
E Clutch Hydraulic Passages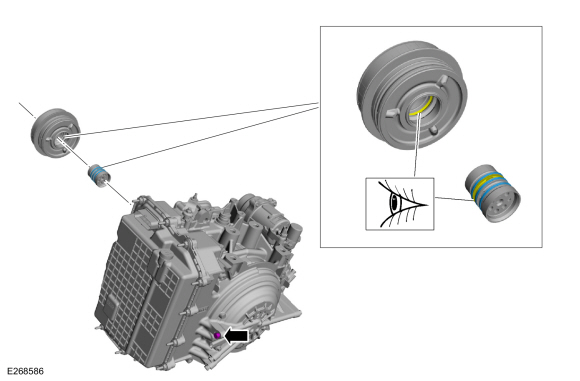 F Clutch Exploded View Item Description 1 Center support 2 F (2, 8) clutch piston seal 3 F (2, 8) clutch piston 4 F (2, 8) clutch piston return spring 5 Snap ring 6 Reaction/overdrive planetary sun gear and shell assembly 7 F (2, 8) clutch steel plates ..
Other information:
To order the publications in this portfolio, contact Helm, LLC at: HELM, LLC 47911 Halyard Drive, Suite 200 Plymouth, Michigan 48170 Attention: Customer Service Or to order a free publication catalog, call toll free: 1-800-782-4356 Monday-Friday 8:00 a.m. - 6:00 p.m. EST Helm, LLC can also be reached by their website: www.helminc.com (Items in this catalog may be purchased by credit card, chec..
WARNING: Service of Compressed Natural Gas (CNG) or Liquefied Petroleum Gas (LPG) vehicle systems is restricted to qualified personnel and authorized workshops. The required qualifications vary by region. Always observe local laws and legislative directives regarding CNG or LPG vehicle service. Failure to follow this instruction may result in serious personal injury or death. &n..
Categories
WARNING: Driving while distracted can result in loss of vehicle control, crash and injury. We strongly recommend that you use extreme caution when using any device that may take your focus off the road. Your primary responsibility is the safe operation of your vehicle. We recommend against the use of any hand-held device while driving and encourage the use of voice-operated systems when possible. Make sure you are aware of all applicable local laws that may affect the use of electronic devices while driving.