Lincoln Corsair: Engine System - General Information / Description and Operation - Engine - Overview
Engine Information
NOTE: When repairing engines, all parts must be contamination free. If contamination/foreign material is present when repairing an engine, premature engine failure may occur.
NOTE: Specifications show the expected minimum or maximum condition. Refer to the appropriate section in Group 303 for the specifications.
NOTE: If a component fails to meet the specifications, it is necessary to refinish it or install a new component. Wear limits are provided as an aid to determine if the component can be refinished. Install a new component when it fails to meet specifications and cannot be refinished.
NOTE: This section contains information, steps and procedures that are not engine specific.
This section covers general procedures and diagnosis and testing of the engine system. For exhaust emission control devices, refer to the PC/ED manual.
The engine incorporates the following features. Refer to the appropriate section in Group 303 for the procedure.
Crankcase ventilation or breather system
Exhaust emission control system
EVAP
Some engines incorporate a fail-safe cooling system.
Refer to: Electronic Engine Controls (303-14B Electronic Engine Controls - 2.3L EcoBoost (199kW/270PS), Diagnosis and Testing).

The engine, fuel system, ignition system, emissions system and exhaust system all affect exhaust emission levels and must be maintained according to the maintenance schedule. Refer to the Scheduled Maintenance Guide.
Correct engine identification is required to order parts.
Refer to: Radio Transceiver Module (RTM) (419-10 Multifunction Electronic Modules, Removal and Installation).

For complete vehicle and engine identification codes,
Refer to: Electronic Engine Controls (303-14B Electronic Engine Controls - 2.3L EcoBoost (199kW/270PS), Diagnosis and Testing).

Symptom Charts Symptom Chart - Gasoline Engine Performance Diagnostics in this manual assume a certain skill level and knowledge of Ford-specific diagnostic practices...
Other information:
Front Seats WARNING: People who are unable to feel pain to their skin because of advanced age, chronic illness, diabetes, spinal cord injury, medication, alcohol use, exhaustion or other physical conditions, must exercise care when using the heated seat...
WARNING: Do not overfill the fuel tank. The pressure in an overfilled tank may cause leakage and lead to fuel spray and fire. WARNING: Do not pry open the fuel tank filler valve. This could damage the fuel system. Failure to follow this instruction could result in fire, personal injury or death...
Categories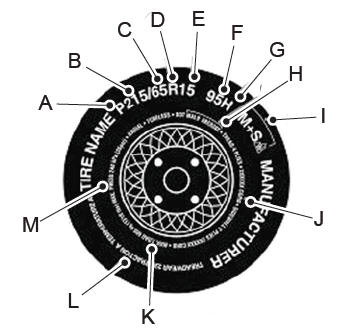 P215/65R15 95H is an example of a tire size, load index and speed rating. The definitions of these items are listed below. (Note that the tire size, load index and speed rating for your vehicle may be different from this example.)
P: Indicates a tire, designated by the Tire and Rim Association, that may be used for service on cars, sport utility vehicles, minivans and light trucks. Note: If your tire size does not begin with a letter this may mean it is designated by either the European Tire and Rim Technical Organization or the Japan Tire Manufacturing Association. 215: Indicates the nominal width of the tire in millimeters from sidewall edge to sidewall edge. In general, the larger the number, the wider the tire. 65: Indicates the aspect ratio which gives the tire's ratio of height to width. R: Indicates a radial type tire. 15: Indicates the wheel or rim diameter in inches. If you change your wheel size, you will have to purchase new tires to match the new wheel diameter. 95: Indicates the tire's load index. It is an index that relates to how much weight a tire can carry. You may find this information in your owner's manual. If not, contact a local tire dealer.