Lincoln Corsair: Brake System / Brake System - General Information
Lubricants, Fluids, Sealers and Adhesives Specifications DOT 4 LV brake fluid Material: Motorcraft® DOT 4 LV High Performance Motor Vehicle Brake Fluid / PM-20 (WSS-M6C65-A2) Torque Specifications Item Nm lb-ft lb-in Front caliper bleeder scre..
Other information:
WARNING: Normal cruise control will not brake when your vehicle is approaching slower vehicles. Always be aware of which mode you have selected and apply the brakes when necessary. Use the touchscreen to select the following: Select Settings. Select Driver Assist.. Select Cruise Control. Select Normal. The cruise control indicator replaces the adaptive cruise control indicator if you ..
WARNING: Batteries normally produce explosive gases which can cause personal injury. Therefore, do not allow flames, sparks or lighted substances to come near the battery. When working near the battery, always shield your face and protect your eyes. Always provide correct ventilation. WARNING: Keep batteries out of reach of children. Batteries contain sulfuric acid. Avoid contact with ski..
Categories
Locating the Rear View Camera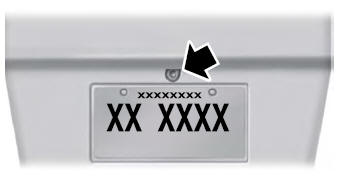 The rear view camera is on the tailgate.
Locating the Front View Camera
Copyright © 2023 www.licorsair.com