Lincoln Corsair: Lighting / Adaptive Headlamps (IF EQUIPPED)
About Adaptive Headlamps
The headlamps are designed to adapt when you are steering around a curve, or if the camera detects lane markings indicating a curve or traffic signs indicating an intersection.
The system is designed to operate if all of the following occur:
You switch the system on through your vehicle settings.
You set the lighting control to the autolamps position.
The ambient light level is low enough that high beams are required.
Steering Around a Curve
Without adaptive headlamps.
With adaptive headlamps.
Camera Detects Lane Markings (If Equipped)
WARNING: Inspect and replace the windshield wiper blades regularly to make sure the camera sensor has a clear view. The windshield wiper blades must be the correct length.
Camera Detects Traffic Signs (If Equipped)
Note: The camera only detects traffic signs if your vehicle speed is below 31 mph (50 km/h).
Switching Adaptive Headlamps On or Off
Use the touchscreen to select the following:
Select Settings.
Select Vehicle.
Select Lighting.
Categories
Locating the Rear View Camera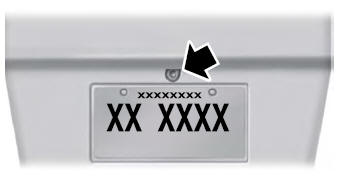 The rear view camera is on the tailgate.
Locating the Front View Camera