Lincoln Corsair: Active Park Assist
What Is Active Park Assist
Assists you with parking in and out of parking spaces.
Switching the 360 Degree Camera On and Off The 360 degree camera system button is on the touchscreen and allows you to toggle through different camera views...
Switching Active Park Assist On and Off Press the active park assist button, then press the active park assist icon on the touchscreen to bring up full screen notifications...
Other information:
Special Tool(s) / General Equipment 307-566Retainer, Torque ConverterTKIT-2006C-FFMFLMTKIT-2006C-LMTKIT-2006C-ROW Magnetic Socket Floor Crane Adjustable Mounting Arm Hose Clamp Remover/Installer Materials Name Specification Motorcraft® Multi-Purpose Grease SprayXL-5-A ESB-M1C93-B Motorcraft® Threadlock and SealerTA-25-B - NOTIC..
DISASSEMBLY NOTE: If the piston and connecting rod are to be reinstalled, they must be assembled in the same orientation. Mark the piston orientation to the connecting rod reassembly. Remove the piston rings and discard. Remove the piston pin retainers and discard. Remove the piston pin. NOTE: If t..
Categories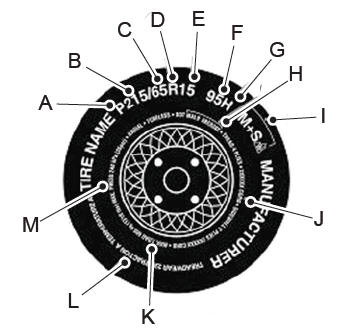 P215/65R15 95H is an example of a tire size, load index and speed rating. The definitions of these items are listed below. (Note that the tire size, load index and speed rating for your vehicle may be different from this example.)
P: Indicates a tire, designated by the Tire and Rim Association, that may be used for service on cars, sport utility vehicles, minivans and light trucks. Note: If your tire size does not begin with a letter this may mean it is designated by either the European Tire and Rim Technical Organization or the Japan Tire Manufacturing Association. 215: Indicates the nominal width of the tire in millimeters from sidewall edge to sidewall edge. In general, the larger the number, the wider the tire. 65: Indicates the aspect ratio which gives the tire's ratio of height to width. R: Indicates a radial type tire. 15: Indicates the wheel or rim diameter in inches. If you change your wheel size, you will have to purchase new tires to match the new wheel diameter. 95: Indicates the tire's load index. It is an index that relates to how much weight a tire can carry. You may find this information in your owner's manual. If not, contact a local tire dealer.