Lincoln Corsair: Suspension / Vehicle Dynamic Suspension
Removal WARNING: The Tire Pressure Monitoring System (TPMS) sensor battery may release hazardous chemicals if exposed to extreme mechanical damage...
Overview The semi-active suspension dampening provides improved handling, comfort and stability by continuously adjusting the adaptive shock absorber force to the current road and driving conditions...
Other information:
Inverter System Controller Item Description 1 Inverter System Controller High Voltage Battery Coolant Temperature Sensor Item Description 1 High Voltage Battery Coolant Temperature Sensor ..
Overview Power Windows The power windows operate only when the delayed accessory feature is active. The delayed accessory feature is active whenever the ignition is ON, or up to 10 minutes after the ignition is changed from ON to OFF while the front driver and passenger doors remain closed. Power Window Operation Standard power window features include one-touch up and one-touch dow..
Categories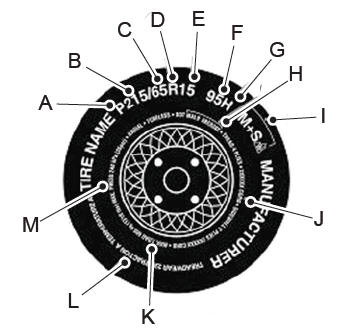 P215/65R15 95H is an example of a tire size, load index and speed rating. The definitions of these items are listed below. (Note that the tire size, load index and speed rating for your vehicle may be different from this example.)
P: Indicates a tire, designated by the Tire and Rim Association, that may be used for service on cars, sport utility vehicles, minivans and light trucks. Note: If your tire size does not begin with a letter this may mean it is designated by either the European Tire and Rim Technical Organization or the Japan Tire Manufacturing Association. 215: Indicates the nominal width of the tire in millimeters from sidewall edge to sidewall edge. In general, the larger the number, the wider the tire. 65: Indicates the aspect ratio which gives the tire's ratio of height to width. R: Indicates a radial type tire. 15: Indicates the wheel or rim diameter in inches. If you change your wheel size, you will have to purchase new tires to match the new wheel diameter. 95: Indicates the tire's load index. It is an index that relates to how much weight a tire can carry. You may find this information in your owner's manual. If not, contact a local tire dealer.