Lincoln Corsair: Adaptive Cruise Control / Switching From Adaptive Cruise Control to Cruise Control
WARNING: Normal cruise control will not brake when your vehicle is approaching slower vehicles. Always be aware of which mode you have selected and apply the brakes when necessary.
Use the touchscreen to select the following:
Select Settings.
Select Driver Assist..
Select Cruise Control.
Select Normal.

The cruise control indicator replaces the adaptive cruise control indicator if you select normal cruise control. The gap setting does not display, and the system does not respond to lead vehicles. Automatic braking remains active to maintain set speed. The system remembers the last setting when you start your vehicle.
Categories
Wet or winter driving conditions with ice, snow or salty road mist can cause inconsistent and unexpected wiping or smearing.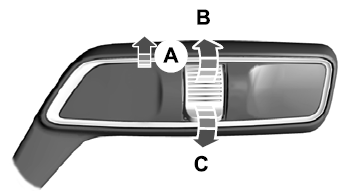 Autowipers On. High sensitivity. Low sensitivity.
Copyright © 2023 www.licorsair.com