Lincoln Corsair: Electronic Engine Controls - 2.0L EcoBoost (177kW/240PS) – MI4 / Removal and Installation - Boost Pressure Sensor
Removal
NOTE: Removal steps in this procedure may contain installation details.
NOTICE: Do not pull the engine appearance cover forward or sideways to remove. Failure to press straight upward on the underside of the cover at the attachment points may result in damage to the cover or engine components.

Remove the engine appearance cover nut.
Torque: 42 lb.in (4.8 Nm)

Place your hand under the engine appearance cover at each grommet location and pull straight up to release each grommet from the studs.


After all of the grommets have been released from the studs, remove the appearance cover from the engine. If the engine appearance cover stud bolt is loosened or removed, it must be installed/tightened into the valve cover.
Torque: 62 lb.in (7 Nm)
Disconnect the electrical connector, remove retainer and the turbocharger boost pressure sensor.
Torque: 44 lb.in (5.0 Nm)
Installation
To install, reverse the removal procedure.

Categories
Locating the Rear View Camera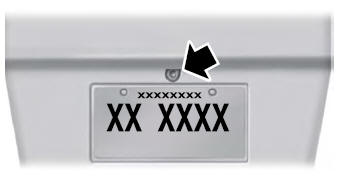 The rear view camera is on the tailgate.
Locating the Front View Camera
Copyright © 2022 www.licorsair.com