Lincoln Corsair: Load Carrying / Roof Racks and Load Carriers (IF EQUIPPED)
WARNING: When loading the roof racks, we recommend you evenly distribute the load, as well as maintain a low center of gravity. Loaded vehicles, with higher centers of gravity, may handle differently than unloaded vehicles. Take extra precautions, such as slower speeds and increased stopping distance, when driving a heavily loaded vehicle.
Note: Do not use crossbars with a moonroof. This will interfere with the moonroof function. Using crossbars with a moonroof may void your vehicle's warranty.
Make sure that you securely fasten the load. Check the tightness of the load before driving and at each fuel stop.
Note: Never place loads directly on the roof panel. The roof panel is not designed to directly carry a load.
Maximum Recommended Load Amounts
Note: The maximum recommended load is based on the load being evenly distributed on the crossbars.

Rear Under Floor Storage Cargo Management System The system is located in the floor of the cargo area. Lift the handle to open. Luggage Covers (IF EQUIPPED) WARNING: Do not place objects on the luggage cover...
Vehicle Loading - with and without a Trailer This section guides you in the proper loading of your vehicle, trailer, or both. Keep your loaded vehicle weight within its design rating capability, with or without a trailer...
Other information:
Materials Name Specification Seam SealerTA-2-B, 3M™ 08308, LORD Fusor® 803DTM - Motorcraft® High Performance Engine RTV SiliconeTA-357 WSE-M4G323-A6 Motorcraft® Silicone Spray LubricantXL-6 ESR-M13P4-A Permatex® Trim and Weatherstrip Adhesive81850 - ..
Valve Train Analysis - Engine Off, Valve Cover Removed NOTE: The following component inspections are used to diagnose valve train concerns. Check for damaged or severely worn parts and correct assembly. Valve Train Analysis - Camshaft Lobe Lift Remove the spark plugs. For additional information, refer to: Spark Plugs (303-07A Engine Ignition - 2.0L EcoBoost (177kW/24..
Categories
Wet or winter driving conditions with ice, snow or salty road mist can cause inconsistent and unexpected wiping or smearing.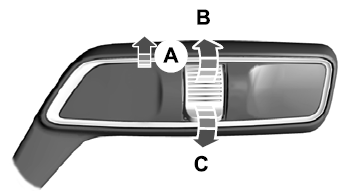 Autowipers On. High sensitivity. Low sensitivity.