Lincoln Corsair: Automatic Transmission - Automatic Transmission – HF45 / General Procedures - Transmission Fluid Level Check
Materials
Name
Specification
Motorcraft® MERCON® ULV Automatic Transmission Fluid
XT-12-QULV
WSS-M2C949-A,
MERCON® ULV

Check
Start the engine and allow to run for 1 minute. Turn engine off and wait 5 minutes.

With the vehicle in NEUTRAL, position it on a hoist.
Refer to: Jacking and Lifting - Overview (100-02 Jacking and Lifting, Description and Operation).

Remove the screws and the engine front undershield.

Rotate the steering wheel counter clockwise to access the transmission fluid leveling plug.

NOTE: The transmission fluid should be even with the bottom of the transmission fluid leveling plug hole.

Remove the transmission fluid leveling plug and check the transmission fluid level.

Adding Additional Transmission Fluid
NOTE: The following procedure uses the Mityvac MVA7212 ATF Refill System.
Install the adapter into transmission fluid leveling plug hole hand tight.

Fill the transmission with transmission fluid.


Fill the Mityvac MVA7212 with transmission fluid.
Material: Motorcraft® MERCON® ULV Automatic Transmission Fluid / XT-12-QULV (WSS-M2C949-A, ) (MERCON® ULV)

Connect the Mityvac MVA7212.


Follow the manufacturer instructions to dispense the fluid into the transmission.

Release the pressure and remove the Mityvac MVA7212. Allow all excess fluid to drain into a pan.

Install the transmission fluid leveling plug.
Torque: 26 lb.ft (35 Nm)
Install the engine front undershield and the screws.

Categories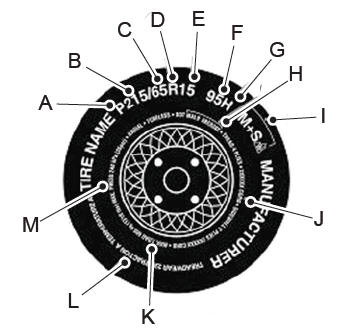 P215/65R15 95H is an example of a tire size, load index and speed rating. The definitions of these items are listed below. (Note that the tire size, load index and speed rating for your vehicle may be different from this example.)
P: Indicates a tire, designated by the Tire and Rim Association, that may be used for service on cars, sport utility vehicles, minivans and light trucks. Note: If your tire size does not begin with a letter this may mean it is designated by either the European Tire and Rim Technical Organization or the Japan Tire Manufacturing Association. 215: Indicates the nominal width of the tire in millimeters from sidewall edge to sidewall edge. In general, the larger the number, the wider the tire. 65: Indicates the aspect ratio which gives the tire's ratio of height to width. R: Indicates a radial type tire. 15: Indicates the wheel or rim diameter in inches. If you change your wheel size, you will have to purchase new tires to match the new wheel diameter. 95: Indicates the tire's load index. It is an index that relates to how much weight a tire can carry. You may find this information in your owner's manual. If not, contact a local tire dealer.
Copyright © 2023 www.licorsair.com