Lincoln Corsair: Exhaust System - 2.0L EcoBoost (177kW/240PS) – MI4 / Description and Operation - Exhaust System - Component Location
FWD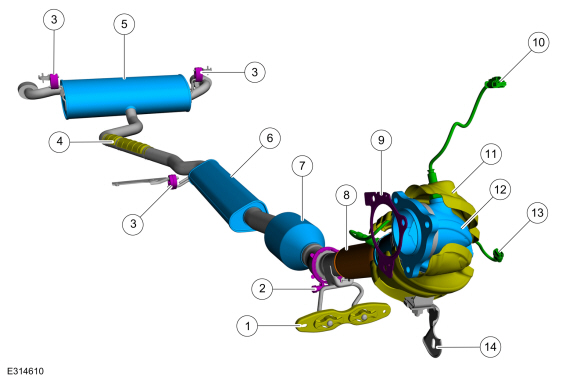 | Item | Description |
| --- | --- |
| 1 | Muffler inlet pipe support bracket |
| 2 | PIA clamp |
| 3 | Isolator |
| 4 | Heat shield |
| 5 | Rear muffler |
| 6 | Front muffler |
| 7 | Converter sub-assembly |
| 8 | Exhaust flexible pipe |
| 9 | Gasket |
| 10 | Universal heated exhaust gas oxygen (U-HEGO) sensor |
| 11 | Catalytic converter heat shield |
| 12 | Catalyst assembly |
| 13 | Heated exhaust gas oxygen (HEGO) sensor |
| 14 | Catalyst assembly PIA bracket |
AWD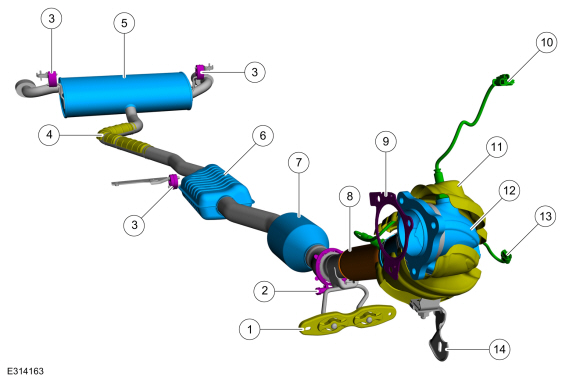 | Item | Description |
| --- | --- |
| 1 | Muffler inlet pipe support bracket |
| 2 | PIA clamp |
| 3 | Isolator |
| 4 | Heat shield |
| 5 | Rear muffler |
| 6 | Front muffler |
| 7 | Converter sub-assembly |
| 8 | Exhaust flexible pipe |
| 9 | Gasket |
| 10 | Universal heated exhaust gas oxygen (U-HEGO) sensor |
| 11 | Catalytic converter heat shield |
| 12 | Catalyst assembly |
| 13 | Heated exhaust gas oxygen (HEGO) sensor |
| 14 | Catalyst assembly PIA bracket |
Overview NOTICE: Do not use leaded fuel in a vehicle equipped with a catalytic converter. In a vehicle that is continually misfueled, the lead in the fuel will be deposited in the catalytic converter and completely blanket the catalyst...
Other information:
Disassembled Views Item Part Number Description 1 70067006 Transmission case 2 7B3627B362 Transmission case dowel (2 required) 3 7D4197D419 Park rod guide 4 7G1007G100 Park rod guide roll pin 5 7F3377F337 Manual control shaft seal 6 7D4107D410 Park pawl actuator rod 7 7H5577H557..
Emergency Towing In the event your vehicle becomes disabled (without access to wheel dollies, car-hauling trailer, or flatbed transport vehicle), it can be flat-towed (all wheels on the ground, regardless of the powertrain/transmission configuration) under the following conditions: The vehicle is facing forward so that it is towed in a forward direction. Shift the transmission into neutr..
Categories
Locating the Rear View Camera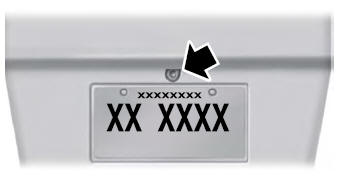 The rear view camera is on the tailgate.
Locating the Front View Camera
Copyright © 2023 www.licorsair.com