Lincoln Corsair: Driving Hints / Breaking-In. Driving Through Water
Breaking-In
You need to break in new tires for approximately 300 mi (480 km). During this time, your vehicle may exhibit some unusual driving characteristics.
Driving Through Water
WARNING: Do not drive through flowing or deep water as you may lose control of your vehicle.
Note: Driving through standing water can cause vehicle damage.
Note: Engine damage can occur if water enters the air filter.
Before driving through standing water, check the depth. Never drive through water that is higher than the bottom of the front rocker area of your vehicle.
When driving through standing water, drive very slowly and do not stop your vehicle. Your brake performance and traction may be limited. After driving through water and as soon as it is safe to do so:
Lightly press the brake pedal to dry the brakes and to check that they work.
Check that the horn works.
Check that the exterior lights work.
Turn the steering wheel to check that the steering power assist works.
Fuel economy is affected by several things such as how you drive, the conditions you drive under and how you maintain your vehicle. There are some things to keep in mind that may improve your fuel economy: Accelerate and slow down in a smooth, moderate fashion...
WARNING: Use a floor mat designed to fit the footwell of your vehicle that does not obstruct the pedal area. Failure to follow this instruction could result in the loss of control of your vehicle, personal injury or death...
Other information:
Special Tool(s) / General Equipment Scraper for Straight Edges Spherical Cutter Hot Air Gun Air Body Saw 8 mm Drill Bit MIG/MAG Welding Equipment Spot Weld Drill Bit Locking Pliers Materials Name Specification Seam SealerTA-2-B, 3M™ 08308, LORD Fusor® 803DTM - Removal WARNING: Electric vehicles damaged by a crash ma..
Diagnostic Trouble Code (DTC) Chart Diagnostics in this manual assume a certain skill level and knowledge of Ford-specific diagnostic practices. REFER to: Diagnostic Methods (100-00 General Information, Description and Operation). Module DTC Description Action GSM P0562:00 System Voltage Low: No Sub Type Information GO to Pinpoint Test A GSM P0563:00 System Voltage High: ..
Categories
Wet or winter driving conditions with ice, snow or salty road mist can cause inconsistent and unexpected wiping or smearing.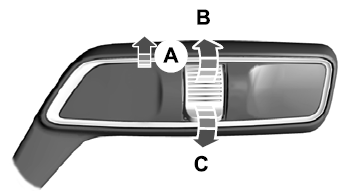 Autowipers On. High sensitivity. Low sensitivity.