Lincoln Corsair: Instrument Cluster / Audible Warnings and Indicators
Keyless Warning Alert
The horn will sound twice when you exit your vehicle with the intelligent access key and your vehicle is in RUN, indicating your vehicle is still on.
Headlamps On Warning Chime
Sounds when you have left the headlamps or parking lamps on and open the driver door with the vehicle off.
Parking Brake On Warning Chime
Sounds when you have left the parking brake on and drive your vehicle. If the warning chime remains on after you have released the parking brake, have the system checked by your authorized dealer immediately.
The following warning lamps and indicators alert you to a vehicle condition that may become serious. Some lamps illuminate when you start your vehicle to make sure they work...
Other information:
Breaking-In You need to break in new tires for approximately 300 mi (480 km). During this time, your vehicle may exhibit some unusual driving characteristics. Driving Through Water WARNING: Do not drive through flowing or deep water as you may lose control of your vehicle. Note: Driving through standing water can cause vehicle damage. Note: Engine damage can occur if water enters the air fi..
WARNING: Do not use the blind spot information system as a replacement for using the interior and exterior mirrors or looking over your shoulder before changing lanes. The blind spot information system is not a replacement for careful driving. WARNING: The system may not operate properly during severe weather conditions, for example snow, ice, heavy rain and spray. Always drive with due c..
Categories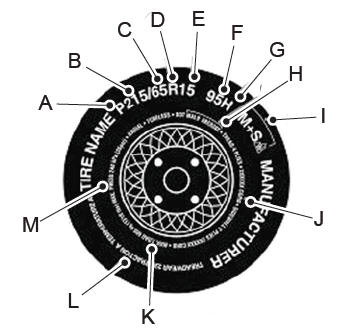 P215/65R15 95H is an example of a tire size, load index and speed rating. The definitions of these items are listed below. (Note that the tire size, load index and speed rating for your vehicle may be different from this example.)
P: Indicates a tire, designated by the Tire and Rim Association, that may be used for service on cars, sport utility vehicles, minivans and light trucks. Note: If your tire size does not begin with a letter this may mean it is designated by either the European Tire and Rim Technical Organization or the Japan Tire Manufacturing Association. 215: Indicates the nominal width of the tire in millimeters from sidewall edge to sidewall edge. In general, the larger the number, the wider the tire. 65: Indicates the aspect ratio which gives the tire's ratio of height to width. R: Indicates a radial type tire. 15: Indicates the wheel or rim diameter in inches. If you change your wheel size, you will have to purchase new tires to match the new wheel diameter. 95: Indicates the tire's load index. It is an index that relates to how much weight a tire can carry. You may find this information in your owner's manual. If not, contact a local tire dealer.