Lincoln Corsair: 360 Degree Camera / 360 Degree Camera Guide Lines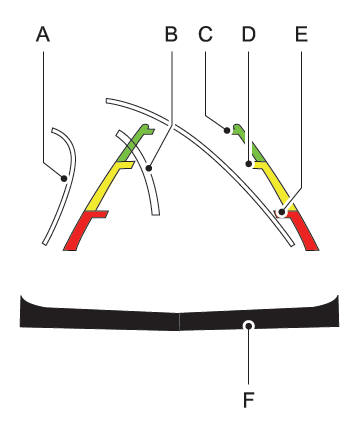 Active guide lines.
Centerline.
Fixed guide line: Green zone.
Fixed guide line: Yellow zone.
Fixed guide line: Red zone.
Rear bumper.
Active guide lines only show with fixed guide lines. Turn the steering wheel to point the guide lines toward an intended path. If the steering wheel position changes when reversing, your vehicle could deviate from the intended path.
The fixed and active guide lines fade in and out depending on the steering wheel position. The active guide lines do not display when the steering wheel position is straight.
Objects in the red zone are closest to your vehicle and objects in the green zone are farther away. Objects get closer to your vehicle as they move from the green zone to the yellow or red zones. Use the side view mirrors and rear view mirror to get better coverage on both sides and rear of your vehicle.
Note: Active guide lines and fixed guide lines are only available when the transmission is in reverse (R).
Note: The centerline is only available if the active or fixed guide lines are on.
Keep Out Zone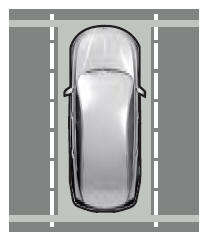 The yellow dotted lines running parallel to your vehicle represent the keep out zone.
Categories
WARNING: Driving while distracted can result in loss of vehicle control, crash and injury. We strongly recommend that you use extreme caution when using any device that may take your focus off the road. Your primary responsibility is the safe operation of your vehicle. We recommend against the use of any hand-held device while driving and encourage the use of voice-operated systems when possible. Make sure you are aware of all applicable local laws that may affect the use of electronic devices while driving.
USB A