Lincoln Corsair: Audio System / USB Port
WARNING: Driving while distracted can result in loss of vehicle control, crash and injury. We strongly recommend that you use extreme caution when using any device that may take your focus off the road. Your primary responsibility is the safe operation of your vehicle. We recommend against the use of any hand-held device while driving and encourage the use of voice-operated systems when possible. Make sure you are aware of all applicable local laws that may affect the use of electronic devices while driving.
USB A
USB C
The USB port allows you to plug in media playing devices, memory sticks and charge devices.
Note: We recommend using only USB-IF certified cables and adapters. Non-certified cables and adapters may not work.
Locating the USB Ports
The USB ports may be in the following locations:
Inside the media bin.
Inside the center console.
On the lower instrument panel.
Note: The number and type of USB ports may vary depending on your vehicle. Note: Not all USB ports in your vehicle have data transfer capabilities.
SiriusXM® Satellite Radio broadcasts a variety of music, news, sports, weather, traffic and entertainment satellite radio channels. For more information and a complete list of SiriusXM satellite radio channels, visit www...
Other information:
Cleaning the Engine Engines are more efficient when they are clean because grease and dirt buildup keep the engine warmer than normal. When washing: Take care when using a power washer to clean the engine. The high-pressure fluid could penetrate the sealed parts and cause damage. Do not spray a hot engine with cold water to avoid cracking the engine block or other engine components...
WARNING: The system may not detect objects with surfaces that absorb reflection. Always drive with due care and attention. Failure to take care may result in a crash. WARNING: The system may not detect small or moving objects, particularly those close to the ground. WARNING: To help avoid personal injury, always use caution when in reverse (R) and when using the sensing system. WARNING: Th..
Categories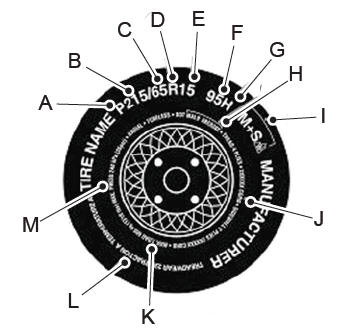 P215/65R15 95H is an example of a tire size, load index and speed rating. The definitions of these items are listed below. (Note that the tire size, load index and speed rating for your vehicle may be different from this example.)
P: Indicates a tire, designated by the Tire and Rim Association, that may be used for service on cars, sport utility vehicles, minivans and light trucks. Note: If your tire size does not begin with a letter this may mean it is designated by either the European Tire and Rim Technical Organization or the Japan Tire Manufacturing Association. 215: Indicates the nominal width of the tire in millimeters from sidewall edge to sidewall edge. In general, the larger the number, the wider the tire. 65: Indicates the aspect ratio which gives the tire's ratio of height to width. R: Indicates a radial type tire. 15: Indicates the wheel or rim diameter in inches. If you change your wheel size, you will have to purchase new tires to match the new wheel diameter. 95: Indicates the tire's load index. It is an index that relates to how much weight a tire can carry. You may find this information in your owner's manual. If not, contact a local tire dealer.