Lincoln Corsair: Wipers and Washers / Windshield Wipers

Push the lever up or down to operate the windshield wiper.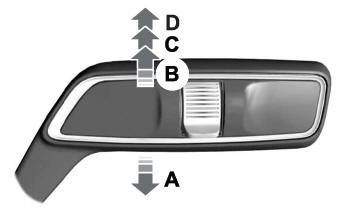 Single wipe.
Intermittent wipe.
Normal wipe.
High-speed wipe.
Note: Fully defrost the windshield before you switch the windshield wipers on.
Note: Make sure that you switch the windshield wipers off before entering a car wash.
Note: If streaks or smears appear on the windshield, clean the windshield and the wiper blades. If that does not resolve the issue, install new wiper blades.
Note: Do not operate the wipers on a dry windshield. This may scratch the glass, damage the wiper blades or cause the wiper motor to burn out. Always use the windshield washers before wiping a dry windshield.
Intermittent Wipe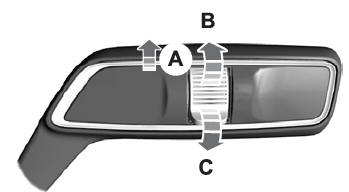 Intermittent wipe.
Shortest wipe interval.
Longest wipe interval.
Use the rotary control to adjust the intermittent wipe interval.
Speed Dependent Wipers
When your vehicle speed increases, the interval between wipes decreases.
Wet or winter driving conditions with ice, snow or salty road mist can cause inconsistent and unexpected wiping or smearing. Autowipers On. High sensitivity...
Other information:
System Operation System Diagram Item Description 1 ABS module 2 LH parking brake actuator motor 3 GWM 4 RCM 5 PCM 6 BCM 7 IPC 8 Parking brake control switch 9 RH parking brake actuator motor Network Message Chart ABS Module Electronic Parking Brake Network Input Me..
Removal WARNING: Service actions on vehicles equipped with electronic brake booster and electronic parking brakes may cause unexpected brake application, which could result in injury to hands or fingers. Put the brake system into service mode prior to servicing or removing any brake components. Failure to follow this instruction may result in serious personal injury. NOTE: Re..
Categories
WARNING: If the tire does not inflate to the recommended tire pressure within 15 minutes, stop and call roadside assistance.
WARNING: The power plug may get hot after use and should be handled carefully when unplugging.
Check the air pressure of your tires as follows: