Lincoln Corsair: Keyless Entry / Locating the Keyless Entry Keypad. Keyless Entry Limitations. Master Access Code
Locating the Keyless Entry Keypad
The keypad is near the driver window and illuminates when you touch it.
Keyless Entry Limitations
Make sure a valid passive key is within one of the three external detection ranges. These are approximately 3 ft (1 m) from the front door handles and the liftgate.
The system may not function if:
The passive key remains stationary for about a minute.
The vehicle battery has no charge.
The passive key battery has no charge.
The passive key frequencies are jammed.
The passive key is too close to metal objects or electronic devices, for example, keys or a cell phone.
Master Access Code
The master access code is a factory-set five-digit entry code. You can operate the keypad with the master access code at any time. The master access code is on the owner's wallet card in the glove box and is available from an authorized dealer.
Switching Keyless Entry On and Off Switch the ignition on using an admin key. Using the information display controls on the steering wheel, select Settings...
Other information:
Configuration NOTE: The engine and transmission must be at normal operating temperature. Using the scan tool, clear the DTC and Transmission Adaptive Tables. Bring the transmission to normal operating temperature. Follow the table below to complete the Adaptive Learning Drive Cycle...
WARNING: Do not use the system in poor visibility, for example fog, heavy rain, spray or snow. Press Settings on the touchscreen. Press Vehicle. Press Lighting. Activating the Automatic High Beam Control Switch the lighting control to the autolamps position...
Categories
Locating the Rear View Camera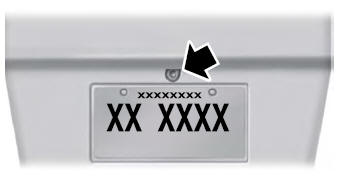 The rear view camera is on the tailgate.
Locating the Front View Camera