Lincoln Corsair: Suspension System - General Information / General Procedures - Rear Toe Adjustment
Special Tool(s) / General Equipment
Adjustment
NOTICE: Do not use any tools or equipment to move the wheel and tire assembly or suspension components while checking for relative movement. Suspension damage may occur. The use of tools or equipment will also create relative movement that may not exist when using hand force. Relative movement must be measured using hand force only.
NOTE: Make sure that the vehicle is standing on a level surface.
NOTE: Before carrying out a toe adjustment, check the tires for the correct pressure. Inspect the tires for incorrect wear or damage. Inspect the suspension for wear or damage.
Steering wheel in straight ahead position.

Using alignment equipment and the manufacturer's instructions, check the rear toe setting on both sides.
Use the General Equipment: Wheel Alignment System
NOTICE: The cam nut and cam bolt area must be free of foreign material to make sure of correct clamping.

NOTE: Clean the general area of the joint to prevent foreign material from entering the joint. Clean the area using only mild liquids.

On both sides.


NOTE: Make sure that the toe settings are not disturbed while tightening the nuts.

Loosen the toe link nut approximately one full turn.
Torque: 81 lb.ft (110 Nm)

Rotate the toe link bolt to achieve the specified toe setting.

Recheck the rear toe settings and adjust as necessary.

NOTE: If equipped with Lane Departure Warning (LDW) System, camera alignment is required for the lane keeping alert and lane keeping aid to function correctly.

Connect the scan tool and perform the IPMA camera alignment procedure. Follow the scan tool directions.

Categories
Wet or winter driving conditions with ice, snow or salty road mist can cause inconsistent and unexpected wiping or smearing.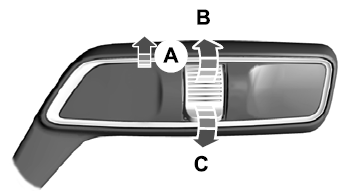 Autowipers On. High sensitivity. Low sensitivity.
Copyright © 2023 www.licorsair.com