Lincoln Corsair: Instrument Cluster / Gauges - Plug-In Hybrid Electric Vehicle (PHEV), Vehicles With: 12.3 Inch Instrument Cluster Display Screen
Note: Clusters shown in single gauge view.
Note: Displays may appear slightly different depending on region.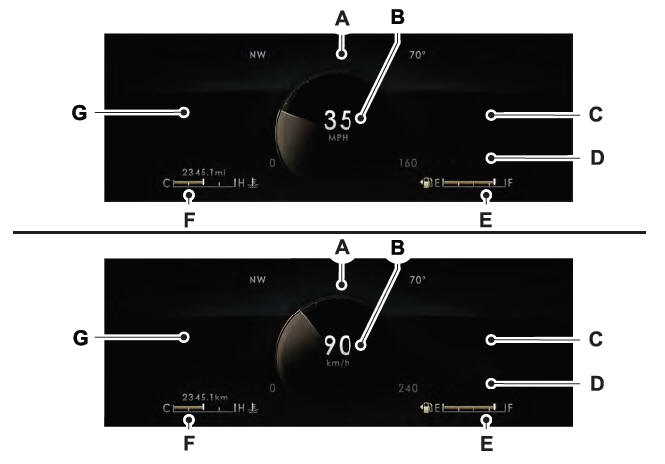 Status Bar.
Speedometer.
Right information group.
Vehicle driving range.
Fuel and battery gauges.
Engine coolant temperature gauge.
Left information group.
Status Bar
Displays information related to the current audio source, compass direction and outside air temperature.
Left and Right Information Group
Information that appears depends on current gauge view and personalized settings.
Fuel Gauge
The fuel gauge indicates about how much fuel is in the fuel tank.
The arrow adjacent to the fuel pump symbol indicates on which side of your vehicle the fuel filler door is located.
Note: The fuel gauge may vary slightly when your vehicle is moving or on a slope.
Low Fuel Reminder
A low fuel level reminder displays and sounds when the distance to empty reaches 75 mi (120 km) to empty for MyKey, and at 50 mi (80 km), 25 mi (40 km), 10 mi (20 km) and 0 mi (0 km) for all vehicle keys.
Note: The low fuel reminder can appear at different fuel gauge positions depending on fuel economy conditions. This variation is normal.
Battery Gauge
The high voltage battery gauge displays the total amount of charge associated with your available electric only driving range. A full fill represents the total amount of energy you can get from an external charge (plugging your vehicle in). When the fill reaches empty, the powertrain system switches to hybrid operation.
Vehicle Driving Range
Vehicle range indicates the estimated distance your vehicle will travel with the energy currently onboard. Estimates will vary based on the energy used while driving.
Changes in driving pattern can cause the values to not only decrease but also increase or stay constant for periods of time.
The amount of energy being used while driving is affected by:
Mild or aggressive acceleration or braking.
Your vehicle speed.
Use of accessories such as climate control.
Ambient temperature and other weather conditions.
Driving in a city or on a highway.
Driving on hilly road conditions.
Note: It is normal for vehicle range estimates to vary due to changes in average energy usage. This is why you typically see different range estimates each time you fill up your fuel tank or fully charge your battery.
Gasoline Distance to Empty
Indicates the approximate distance your vehicle can travel on the fuel remaining in the tank.
Electric Range
Indicates the approximate distance your vehicle can travel on electric power only with the engine off.
Engine Coolant Temperature Gauge
WARNING: Do not remove the coolant reservoir cap when the engine is on or the cooling system is hot. Wait 10 minutes for the cooling system to cool down. Cover the coolant reservoir cap with a thick cloth to prevent the possibility of scalding and slowly remove the cap. Failure to follow this instruction could result in personal injury.
Indicates engine coolant temperature. At normal operating temperature, the level indicator is in the normal range. If the engine coolant temperature exceeds the normal range, stop your vehicle as soon as safely possible, switch off the engine and let the engine cool.
Tachometer. Information bar. Speedometer. Fuel gauge. Information display. Engine coolant temperature gauge. Information Bar Displays information related to the navigation, outside air temperature, odometer and distance to empty...
Other information:
The head up display (HUD) is a visual system that shows information in your field of view as you drive. The information comes from various vehicle systems and includes vehicle speed, speed limit, navigation, and advanced driver assistance systems such as adaptive cruise control and the lane keeping system...
Materials Name Specification Motorcraft® Metal Brake Parts CleanerPM-4-A, PM-4-B, APM-4-C - Removal NOTICE: The turbocharger compressor vanes can be damaged by even the smallest particles. When removing any turbocharger or engine air intake system component, ensure that no debris enters the system...