Lincoln Corsair: SYNC™ 3 / Entertainment
Audio source. Select to choose a different audio source.
Presets. Swipe left to view more presets.
You can access these options using the touchscreen or voice commands.
Sources
Press this button to select the source of media you want to listen to.


AM/FM Radio
Tuning a Station
You can use the tune or seek controls on the radio bezel to select a station.
To tune a station using the touchscreen, select:

A pop up appears, allowing you to type in the frequency of a station. You can only enter a valid station for the source you are currently listening to.
You can press the backspace button to delete the previously entered number.
Once you have entered the station's call numbers, you can select: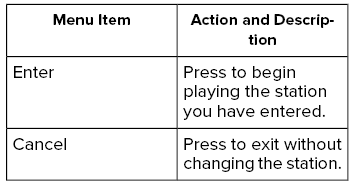 Presets
To set a new preset, tune to the station and then press and hold one of the memory preset buttons. The audio mutes briefly while the system saves the station and then returns.
You may be able to add additional preset pages using the settings option on the feature bar.
SiriusXM® Satellite Radio (If Activated)
Note: This feature may not be available in all markets and requires an active subscription.

SiriusXM satellite radio is a subscription-based satellite radio service that broadcasts a variety of music, sports, news, weather, traffic and entertainment programming. Your factory-installed SiriusXM satellite radio system includes hardware and a limited subscription term that begins on the date of sale or lease of your vehicle. See an authorized dealer for availability.
For more information on extended subscription terms (a service fee is required), the online media player and a list of SiriusXM satellite radio channels, and other features, please visit www.siriusxm.com in the United States, www.siriusxm.ca in Canada, or call SiriusXM at 1-888-539-7474.
Note: SiriusXM reserves the unrestricted right to change, rearrange, add or delete programming. This includes canceling, moving or adding particular channels, and its prices, at any time, with or without notice to you. We are not responsible for any such programming changes.
Note: This receiver includes the eCos real-time operating system. eCos is published under the eCos License.
The following buttons are available for SiriusXM:


Memory Presets
To set a preset, tune to the station then press and hold one of the memory preset buttons. The audio mutes briefly while the system saves the station and returns once the station is stored.
You may be able to add additional preset pages using the settings option on the feature bar.
Satellite Radio Electronic Serial Number (ESN)
You need your ESN to activate, modify or track your satellite radio account.
SiriusXM Satellite Radio Reception Factors and Troubleshooting



HD Radio™ Information (If Available)
To activate HD radio, please see the Radio Settings in the Settings Chapter.
Note: HD Radio broadcasts are not available in all markets.
HD Radio technology is the digital evolution of analog AM/FM radio. Your system has a special receiver that allows it to receive digital broadcasts (where available) in addition to the analog broadcasts, it already receives. Digital broadcasts provide a better sound quality than analog broadcasts with free, crystal-clear audio and no static or distortion. For more information, and a guide to available stations and programming, please visit:

When HD Radio is on and you tune to a station broadcasting HD Radio technology, you may notice the following indicators on your screen:
The HD logo is grey when acquiring a digital station, and then changes to orange when digital audio is playing. When this logo is available, you may also see Title and Artist fields on-screen.
The multicast indicator appears in FM mode (only) if the current station is broadcasting multiple digital broadcasts. The highlighted numbers signify available digital channels where new or different content is available. HD1 signifies the main programming status and is available in analog and digital broadcasts. Other multicast stations (HD2 through HD7) are only available digitally.
Note: There is also an additional feature for stations that have more than 1 HD multicast (For example, HD1 or HD2). The HD logo and Radio text appears as a button. Pressing this button allows you to cycle through all of the HD stations on that specific frequency. For example, if you are on 101.1 and it has HD1, HD2, HD3, pressing the button repeatedly causes the radio to cycle through the HD stations in a cyclic increasing order.
When HD Radio broadcasts are active, you can access the following functions:
HD Radio Reception and Station Troubleshooting
In order to provide the best possible experience, use the contact form to report any station issues found while listening to a station broadcasting with HD Radio technology. Independent entities own and operate each station. These stations are responsible for ensuring all audio streams and data fields are accurate.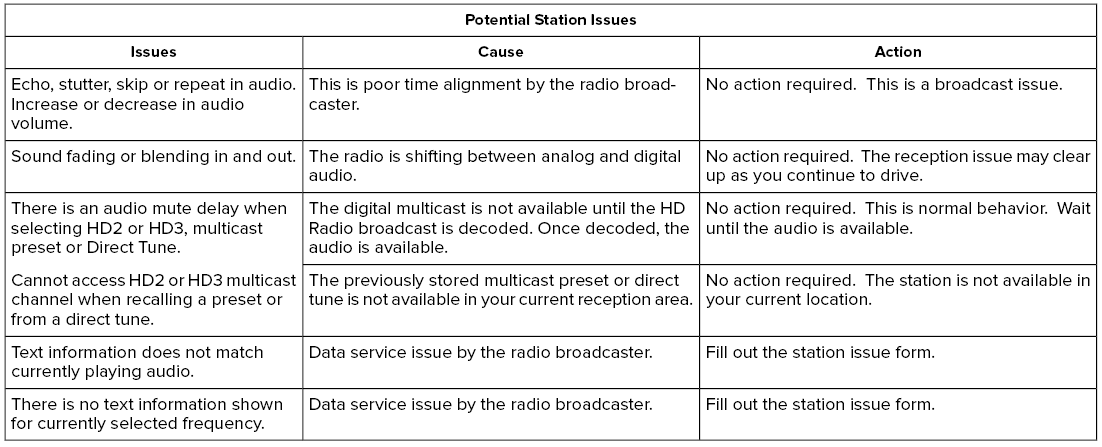 HD Radio Technology manufactured under license from iBiquity Digital Corporation and foreign patents. HD Radio and the HD and HD Radio logos are proprietary trademarks of DTS. The vehicle manufacturer and DTS are not responsible for the content sent using HD Radio technology. Content may be changed, added or deleted at any time at the station owner's discretion.
CD (If equipped)
Once you select this option, the system returns you to the main audio screen.
The current audio information appears on the screen.
The following buttons are also available:

You can use the forward, reverse, pause or play buttons to control the audio playback.
Bluetooth Stereo or USB
Bluetooth Stereo and USB allow you to access media that you store on your Bluetooth device or USB device such as music, audio books or podcasts.
The following buttons are available for Bluetooth and USB:

You can use the forward, reverse, pause or play buttons to control the audio playback. To get more information about the currently playing track, press the cover art or Info button.
For some devices, SYNC 3 is able to provide 30-second skip buttons when you listen to audio books or podcasts. These buttons allow you to skip forward or backward within a track.
While playing audio from a USB device you can look for certain music by selecting the following: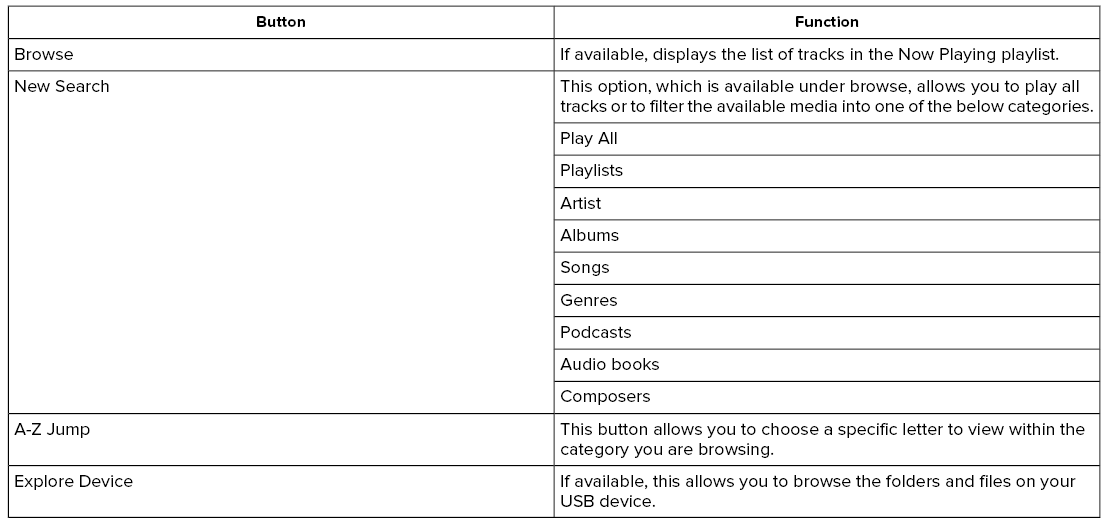 USB Ports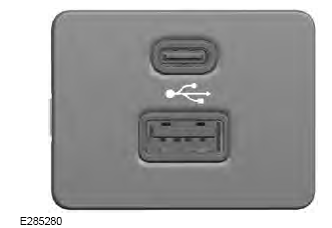 The USB ports are in the center console or behind a small access door in the instrument panel.
This feature allows you to plug in USB media devices, memory sticks, flash drives or thumb drives, and charge devices if they support this feature.
Select this option to play audio from your USB device.
Apps
The system supports the use of certain audio apps such as iHeartRadio through a USB or Bluetooth enabled device.
Each app gives you different on-screen options depending on the app's content.
Supported Media Players, Formats and Metadata Information
The system is capable of hosting nearly any digital media player, including iPod, iPhone, and most USB drives.
Supported audio formats include MP3, WMA, WAV, AAC, and FLAC.
Supported audio file extensions include MP3, WMA, WAV, M4A, M4B, AAC, and FLAC.
Supported USB file systems include: FAT, exFAT, and NTFS.
SYNC 3 is also able to organize the media from your USB device by metadata tags. Metadata tags, which are descriptive software identifiers embedded in the media files, provide information about the file.
If your indexed media files contain no information embedded in these metadata tags, SYNC 3 may classify the empty metadata tags as unknown.
SYNC 3 is capable of indexing up to 50,000 songs per USB device, for up to 10 devices.
The system allows you to interact with the entertainment, information and communication systems on your vehicle using voice commands. This allows you to keep your hands on the steering wheel and focus on what is in front of you...
Touch the climate button on the touchscreen to access your climate control features. Note: You can switch temperature units between Fahrenheit and Celsius...
Other information:
Special Tool(s) / General Equipment Resistance Spotwelding Equipment Spherical Cutter Air Body Saw 8 mm Drill Bit MIG/MAG Welding Equipment Spot Weld Drill Bit Locking Pliers Materials Name Specification Seam SealerTA-2-B, 3M™ 08308, LORD Fusor® 803DTM - Flexible Foam Repair3M™ 08463, LORD Fusor® 121 - Removal &nbs..
System Operation Auto Start Stop The auto start stop system helps reduce fuel consumption and decrease emissions by automatically shutting down the engine when the vehicle stops and the engine is idling, usually within 1500 ms (1.5 seconds). To initiate the auto start stop operation on automatic transmission equipped vehicles on automatic transmission equipped vehicles, the vehicle gear ..