Lincoln Corsair: Front Suspension / Description and Operation - Front Suspension - Overview
Overview
The front suspension consists of the following components:
Lower arms
Stabilizer bar, bushings and links
Wheel bearings and wheel hubs
Front strut and spring assemblies
Wheel knuckles
Wheel studs
The front suspension uses a MacPherson strut system. This suspension system incorporates a strut assembly that takes the place of the upper arm and ball joint. The strut performs the function of a shock absorber and is encompassed by a coil spring. The strut and spring assembly carries the sprung weight of the vehicle and is also the pivot point for the steering knuckle. This system uses a lower control arm and ball joint for the lower (unloaded) pivot point of the steering knuckle.
Special Tool(s) / General Equipment Tie Rod End Remover Transmission Jack Materials Name Specification Motorcraft® Metal Brake Parts CleanerPM-4-A, PM-4-B, APM-4-C - Removal NOTICE: Suspension fasteners are critical parts that affect the performance of vital components and systems...
Other information:
WARNING: Towing trailers beyond the maximum recommended gross trailer weight exceeds the limit of your vehicle and could result in engine damage, transmission damage, structural damage, loss of vehicle control, vehicle rollover and personal injury...
Canceling the Set Speed Press the button or tap the brake pedal. The set speed does not erase. Resuming the Set Speed Press the button. Your vehicle speed returns to the previously set speed and gap setting. The set speed displays continuously in the information display when the system is active...
Categories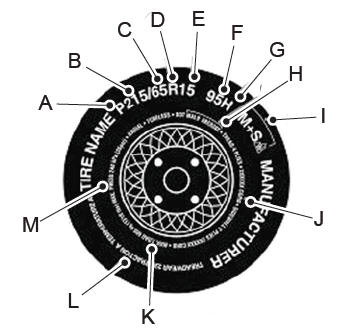 P215/65R15 95H is an example of a tire size, load index and speed rating. The definitions of these items are listed below. (Note that the tire size, load index and speed rating for your vehicle may be different from this example.)
P: Indicates a tire, designated by the Tire and Rim Association, that may be used for service on cars, sport utility vehicles, minivans and light trucks. Note: If your tire size does not begin with a letter this may mean it is designated by either the European Tire and Rim Technical Organization or the Japan Tire Manufacturing Association. 215: Indicates the nominal width of the tire in millimeters from sidewall edge to sidewall edge. In general, the larger the number, the wider the tire. 65: Indicates the aspect ratio which gives the tire's ratio of height to width. R: Indicates a radial type tire. 15: Indicates the wheel or rim diameter in inches. If you change your wheel size, you will have to purchase new tires to match the new wheel diameter. 95: Indicates the tire's load index. It is an index that relates to how much weight a tire can carry. You may find this information in your owner's manual. If not, contact a local tire dealer.