Lincoln Corsair: Automatic Transmission - Automatic Transmission – HF45 / Description and Operation - Final Drive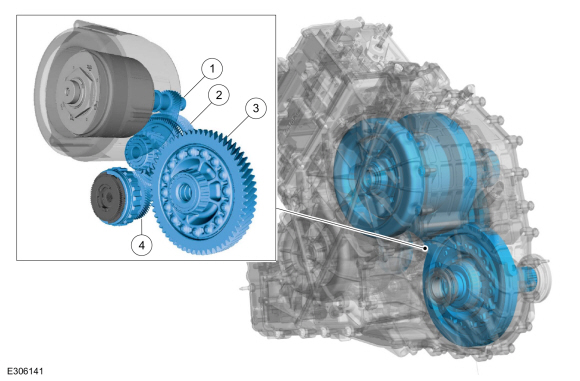 | Item | Part Number | Description |
| --- | --- | --- |
| 1 | 7C0987C098 | Traction motor drive gear assembly |
| 2 | 7H4717H471 | Transfer shaft and gear assembly |
| 3 | 7F4657F465 | Differential carrier and gear assembly |
| 4 | 7L4377L437 | Ring gear assembly |
The final drive gear is meshed with the transfer shaft and bolted to the differential case. The ring gear bolts are one time use bolts. Use new bolts when installing the ring gear.
Item Part Number Description 1 7L4377L437 Ring gear 2 7A3987A398 Planetary carrier 3 7A3487A348 Sun gear This transmission has one simple planetary gear set...
The differential allows the halfshafts and wheels to rotate at different speeds during cornering. The differential assembly consists of the following components: Differential carrier Two pinion gears Two side gears When driving in a straight line, both front wheels rotate at relatively the same speed...
Other information:
Removal NOTICE: The turbocharger compressor vanes can be damaged by even the smallest particles. When removing any turbocharger or engine air intake system component, ensure that no debris enters the system. Failure to do so may result in damage to the turbocharger...
System Operation System Diagram - Push Button Ignition Switch Item Description 1 HS-CAN1 2 Ignition switch (push button) 3 GWM 4 PCM 5 Ignition mode indicator 6 BCM 7 Run/Start relay Network Message Chart - Push Button Ignition Switch GWM Module Network Input Messages ..
Categories
You can create a Wi-Fi hotspot in your vehicle and allow devices to connect to it for access to the Internet.
Select the settings option on the feature bar.
Press Lincoln Connect. Press Vehicle Hotspot.
Copyright © 2022 www.licorsair.com