Lincoln Corsair: Remote Control / Replacing the Battery
WARNING: Keep batteries away from children to prevent ingestion. Failure to follow this instruction could result in personal injury or death. If ingested, immediately seek medical attention.
WARNING: If the battery compartment does not securely close, stop using the remote control and replace it as soon as possible. In the meantime, keep the remote control away from children. Failure to follow this instruction could result in personal injury or death.
Note: Refer to local regulations before you dispose of the remote control batteries.
Note: Do not wipe off any grease on the battery terminals or on the back surface of the circuit board.
Note: Replacing the remote control battery does not erase the programmed key from your vehicle. The remote control operates as normal.
A message appears in the information display when the remote control battery is low.
The remote control uses one coin-type three-volt lithium battery, CR2450, or equivalent.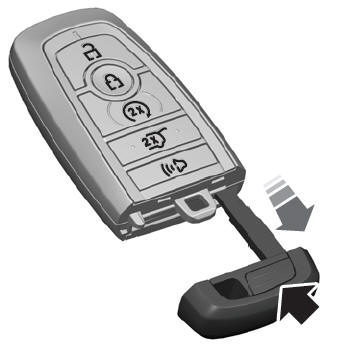 Push the release button and pull the key blade out.

Twist a thin coin under the tab hidden behind the key blade head to remove the battery cover.

Insert a screwdriver in the position shown and carefully remove the battery.
Install a new battery with the + facing upward.
Reinstall the battery cover and the key blade.
Categories
Note: The keyless starting system may not function if the key is close to metal objects or electronic devices such as cellular phones.
Note: A valid key must be located inside your vehicle to switch the ignition on and start the engine.
Ignition Modes