Lincoln Corsair: Starting and Stopping the Engine / Keyless Starting
Note: The keyless starting system may not function if the key is close to metal objects or electronic devices such as cellular phones.
Note: A valid key must be located inside your vehicle to switch the ignition on and start the engine.
Ignition Modes
The keyless starting system has three modes:
Off: Turns the ignition off.
Without applying the brake pedal, press and release the button once when the ignition is in the on mode, or when the engine is running but the vehicle is not moving.
On: All electrical circuits are operational and the warning lamps and indicators illuminate.
Without applying the brake pedal, press and release the button once.
Note: You may have to press the push button ignition switch twice to switch the ignition on.
Start: Starts the engine.
Press the brake pedal, and then press the button for any length of time. An indicator light on the button illuminates when then ignition is on and when the engine starts.
Categories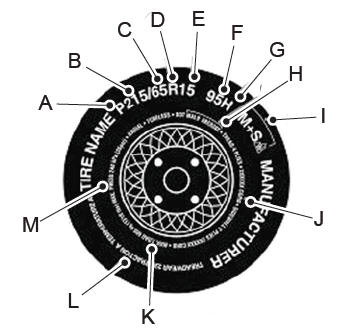 P215/65R15 95H is an example of a tire size, load index and speed rating. The definitions of these items are listed below. (Note that the tire size, load index and speed rating for your vehicle may be different from this example.)
P: Indicates a tire, designated by the Tire and Rim Association, that may be used for service on cars, sport utility vehicles, minivans and light trucks. Note: If your tire size does not begin with a letter this may mean it is designated by either the European Tire and Rim Technical Organization or the Japan Tire Manufacturing Association. 215: Indicates the nominal width of the tire in millimeters from sidewall edge to sidewall edge. In general, the larger the number, the wider the tire. 65: Indicates the aspect ratio which gives the tire's ratio of height to width. R: Indicates a radial type tire. 15: Indicates the wheel or rim diameter in inches. If you change your wheel size, you will have to purchase new tires to match the new wheel diameter. 95: Indicates the tire's load index. It is an index that relates to how much weight a tire can carry. You may find this information in your owner's manual. If not, contact a local tire dealer.