Lincoln Corsair: Wipers and Washers / Rear Window Wiper and Washers
Rear Window Wiper
Intermittent wipe.
Continuous wipe.
Rear window wiper off.
Depending on your vehicle, when you switch on the front wipers and move the gearshift lever to reverse (R), the rear intermittent wipe may turn on.
Note: Make sure you switch the rear window wiper off before entering a car wash.
Rear Window Washer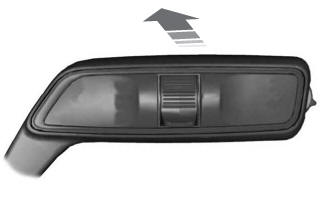 Push the lever away from you to operate the rear window washer. When you release the lever, the wipers operate for a short time.
Do not operate the washers when the washer reservoir is empty. This could cause the washer pump to overheat.
Pull the lever toward you to operate the windshield washers. When you release the lever, the wipers operate for a short time. When activated, a courtesy wipe occurs a short time after the wipers stop to clear any remaining washer fluid...
Other information:
Why Maintain Your Vehicle? Carefully following the maintenance schedule helps protect against major repair expenses resulting from neglect or inadequate maintenance and may help to increase the value of your vehicle when you sell or trade it. Keep all receipts for completed maintenance with your vehicle. We have established regular maintenance intervals for your vehicle based upon rigorous..
Fuel economy is affected by several things such as how you drive, the conditions you drive under and how you maintain your vehicle. There are some things to keep in mind that may improve your fuel economy: Accelerate and slow down in a smooth, moderate fashion. Drive at steady speeds. Anticipate stops; slowing down may eliminate the need to stop. Combine errands and minimize stop-an..
Categories
You can create a Wi-Fi hotspot in your vehicle and allow devices to connect to it for access to the Internet.
Select the settings option on the feature bar.
Press Lincoln Connect. Press Vehicle Hotspot.