Lincoln Corsair: Automatic Transmission - 8-Speed Automatic Transmission – 8F35/8F40 / Description and Operation - Planetary Assembly
Planetary Gearset Exploded View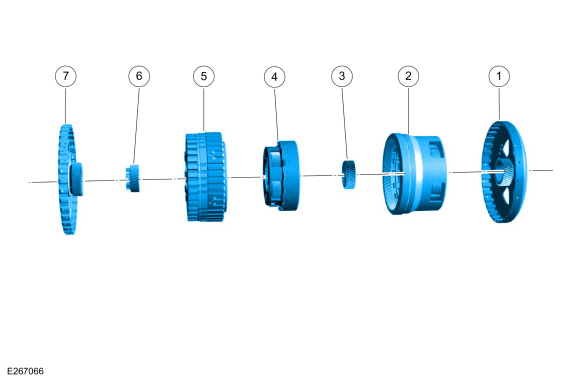 | | |
| --- | --- |
| Item | Description |
| 1 | Output sun gear/shell |
| 2 | Output planetary carrier/reaction ring gear |
| 3 | Input sun gear |
| 4 | Input carrier/output ring gear |
| 5 | Reaction/overdrive carrier/input ring gear |
| 6 | Reaction sun gear |
| 7 | Overdrive sun gear/shell |
Planetary Gearset Cutaway View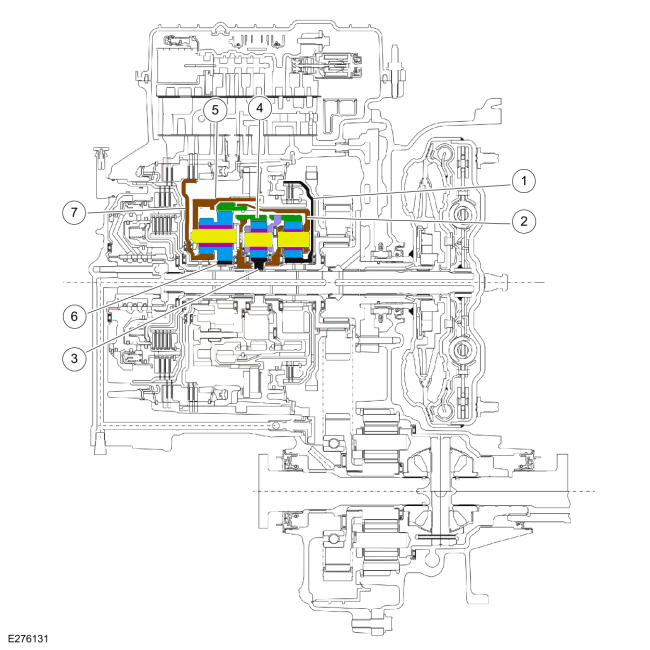 Planetary Gearset
This transmission has 4 planetary gearsets to provide operation in reverse and 8 forward speeds.
The gearsets are comprised of the following components:
Output planetary sun gear/shell
Output planetary carrier
Output planetary ring gear
Input planetary sun gear
Input planetary carrier
Input planetary ring gear
Reaction/overdrive planetary ring gear
Reaction/overdrive planetary carrier
Reaction sun gear
Overdrive sun gear/shell
Output Planetary Carrier Hub Exploded View
| | |
| --- | --- |
| Item | Description |
| 1 | Drive chain drive sprocket |
| 2 | Output planetary carrier hub/park gear |
| 3 | Output planetary carrier |
Output Planetary Carrier Hub
The output planetary carrier hub/park gear is splined to the output planetary carrier and the drive chain drive sprocket. This allows torque to be transferred from the planetary gearset to the final drive gearset.
Final Drive Component Exploded View Item Description 1 Park gear 2 Drive chain 3 Drive chain drive sprocket 4 Drive chain driven sprocket 5 Final drive planetary sun gear 6 Differential assembly 7 Final drive planetary ring gear 8 Torque convert..
Other information:
Check NOTE: Prior to checking driveline angularity, inspect the U-joints for correct operation. NOTE: An incorrect driveline angle can cause a vibration or shudder. NOTE: Driveline angularity is the angular relationship between the engine crankshaft, the driveshaft and the rear axle pinion. Factors determining driveline angularity include ride height, rear spring and engine mounts...
Many forward-facing child restraints include a tether strap which extends from the back of the child restraints and hooks to an anchoring point called the top tether anchor. Tether straps are available as an accessory for many older child restraints. Contact the manufacturer of your child restraint for information about ordering a tether strap, or to obtain a longer tether strap if the t..
Categories
WARNING: If the tire does not inflate to the recommended tire pressure within 15 minutes, stop and call roadside assistance.
WARNING: The power plug may get hot after use and should be handled carefully when unplugging.
Check the air pressure of your tires as follows: