Lincoln Corsair: Automatic Transmission - 8-Speed Automatic Transmission – 8F35/8F40 / Description and Operation - Auto-Start-Stop Accumulator
Auto-Start-Stop Accumulator components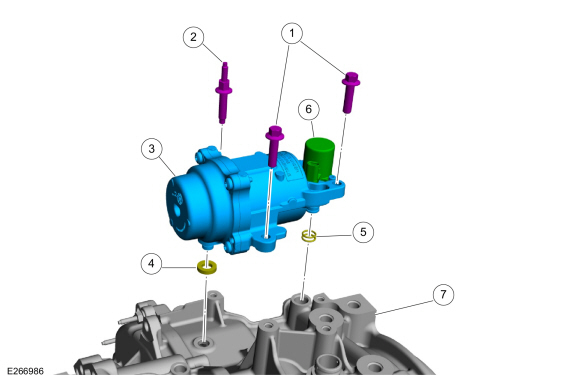 | | |
| --- | --- |
| Item | Description |
| 1 | Bolts (2 required) |
| 2 | Studbolt |
| 3 | Auto-Start-Stop accumulator |
| 4 | Seal |
| 5 | O-ring seal (2 required) |
| 6 | Solenoid |
| 7 | Transmission case |
Mechanical Operation
When the engine is running, line pressure is routed to the rear port of the accumulator. Line pressure unseats a check ball and charges the accumulator. Air and residual fluid on the opposite side of the accumulator piston returns to the transmission through a vent port on the front of the accumulator. At 896 kPa (130 psi) of line pressure, the accumulator is at full stroke. The normally closed solenoid is de-energized. During an engine auto-start-stop event when the engine rpm equals 200, the PCM commands the accumulator solenoid on. The solenoid pintle valve opens and allows the accumulator to discharge into the line pressure passage. The accumulator discharges at a rate to fully apply the A (1, 2, 3, 4, 5) clutch and actuate the D SOWC clutch.
Hydraulic Circuit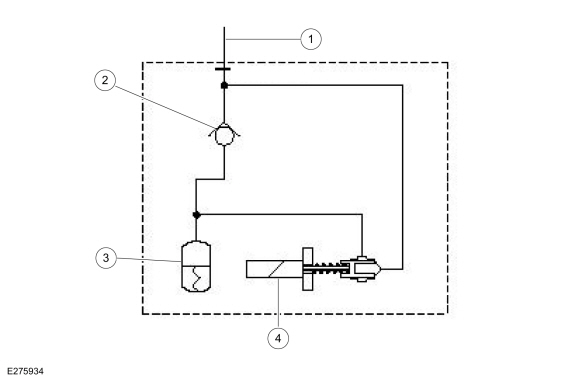 | | |
| --- | --- |
| Item | Description |
| 1 | Line pressure |
| 2 | Check valve |
| 3 | Accumulator |
| 4 | Solenoid |
Differential Exploded View Item Description 1 Roll pin 2 Pinion shaft 3 Pinion gears 4 Side gears 5 Differential housing Differential Cutaway View and External Sealing Item Description 1 LH halfshaft seal 2 ..
Other information:
Special Tool(s) / General Equipment Wooden Block Removal With the vehicle in NEUTRAL, position it on a hoist. Refer to: Jacking and Lifting - Overview (100-02 Jacking and Lifting, Description and Operation). Using a holding device, hold the steering wheel in the straight-ahead position. Remove the bolt and discard. ..
Diagnostic Trouble Code (DTC) Chart Diagnostics in this manual assume a certain skill level and knowledge of Ford-specific diagnostic practices. REFER to: Diagnostic Methods (100-00 General Information, Description and Operation). Diagnostic Trouble Code Chart Module DTC Description Action BCM B1182..
Categories
Note: The keyless starting system may not function if the key is close to metal objects or electronic devices such as cellular phones.
Note: A valid key must be located inside your vehicle to switch the ignition on and start the engine.
Ignition Modes