Lincoln Corsair: Fuses / Changing a Fuse
General Information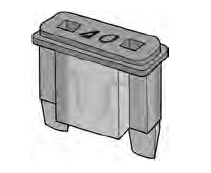 If electrical components in the vehicle are not working, a fuse may have blown. Blown fuses are identified by a broken wire within the fuse.
Engine Compartment Fuse Box
WARNING: Always replace a fuse with one that has the specified amperage rating. Using a fuse with a higher amperage rating can cause severe wire damage and could start a fire.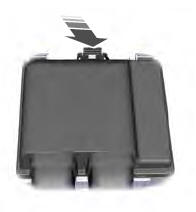 Pull the latch toward you and remove the top cover.

Pull the connector lever upward.
Pull the connector upward to remove it.

Pull both latches toward you and remove the fuse box.
Turn the fuse box over and open the lid.
Fuse Types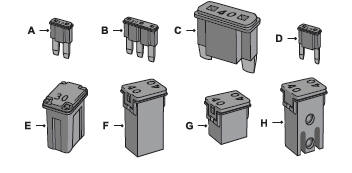 Micro 2.
Micro 3.
Maxi.
Mini.
M Case.
J Case.
J Case Low Profile.
Slotted M Case.
Engine Compartment Fuse Box WARNING: Always disconnect the battery before servicing high current fuses. WARNING: To reduce risk of electrical shock, always replace the cover to the power distribution box before reconnecting the battery or refilling fluid reservoirs...
Other information:
NOTE: Coolant temperature will vary with ambient temperature and load. Temperatures shown are for ambient temperature of 38° C (100° F). Red arrows indicate a temperature over 90° C (194° F), Orange arrows indicate a temperature of approximately 90° C (194° F), Blue arrows indicate a temperature below 90° C (194° F). Front Wheel Drive (FWD) Item Description ..
Removal and Installation NOTICE: The turbocharger compressor vanes can be damaged by even the smallest particles. When removing any turbocharger or engine air intake system component, ensure that no debris enters the system. Failure to do so may result in damage to the turbocharger. NOTICE: Special attention needs to be given to the sealing ports for the oil supply, the oil return, a..
Categories
WARNING: Driving while distracted can result in loss of vehicle control, crash and injury. We strongly recommend that you use extreme caution when using any device that may take your focus off the road. Your primary responsibility is the safe operation of your vehicle. We recommend against the use of any hand-held device while driving and encourage the use of voice-operated systems when possible. Make sure you are aware of all applicable local laws that may affect the use of electronic devices while driving.