Lincoln Corsair: Fuses / Changing a Fuse
General Information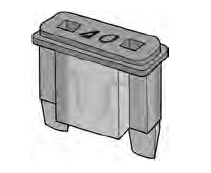 If electrical components in the vehicle are not working, a fuse may have blown. Blown fuses are identified by a broken wire within the fuse.
Engine Compartment Fuse Box
WARNING: Always replace a fuse with one that has the specified amperage rating. Using a fuse with a higher amperage rating can cause severe wire damage and could start a fire.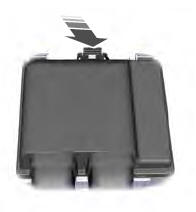 Pull the latch toward you and remove the top cover.

Pull the connector lever upward.
Pull the connector upward to remove it.

Pull both latches toward you and remove the fuse box.
Turn the fuse box over and open the lid.
Fuse Types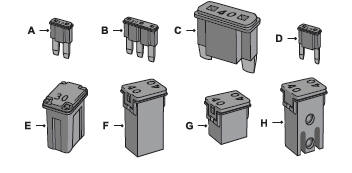 Micro 2.
Micro 3.
Maxi.
Mini.
M Case.
J Case.
J Case Low Profile.
Slotted M Case.
Engine Compartment Fuse Box WARNING: Always disconnect the battery before servicing high current fuses. WARNING: To reduce risk of electrical shock, always replace the cover to the power distribution box before reconnecting the battery or refilling fluid reservoirs...
Other information:
Audio source. Select to choose a different audio source. Presets. Swipe left to view more presets. You can access these options using the touchscreen or voice commands. Sources Press this button to select the source of media you want to listen to. AM/FM Radio Tuning a Station You can use the tune or seek controls on the radio bezel to select a station. To tune a station using the tou..
Check NOTE: Refer to the appropriate Section 303-01 for the specification. NOTE: Valve guides tend to wear in an hourglass pattern. The ball gauge can be inserted into the combustion chamber side of the valve guide, if necessary. Use a ball gauge to determine the inside diameter of the valve guides in 2 directions at the top, middle and bottom of the valve guide. ..
Categories
WARNING: Driving while distracted can result in loss of vehicle control, crash and injury. We strongly recommend that you use extreme caution when using any device that may take your focus off the road. Your primary responsibility is the safe operation of your vehicle. We recommend against the use of any hand-held device while driving and encourage the use of voice-operated systems when possible. Make sure you are aware of all applicable local laws that may affect the use of electronic devices while driving.