Lincoln Corsair: Introduction / About This Manual
Thank you for choosing Lincoln. We recommend that you take some time to get to know your vehicle by reading this manual. The more that you know about it, the greater the safety and pleasure you will get from driving it.
WARNING: Driving while distracted can result in loss of vehicle control, crash and injury. We strongly recommend that you use extreme caution when using any device that may take your focus off the road. Your primary responsibility is the safe operation of your vehicle. We recommend against the use of any hand-held device while driving and encourage the use of voice-operated systems when possible. Make sure you are aware of all applicable local laws that may affect the use of electronic devices while driving.
Note: This manual describes product features and options available throughout the range of available models, sometimes even before they are generally available. It may describe options not fitted to the vehicle you have purchased.
Note: Some of the illustrations in this manual may show features as used in different models, so may appear different to you on your vehicle.
Note: Always use and operate your vehicle in line with all applicable laws and regulations.
Note: Pass on this manual when selling your vehicle. It is an integral part of your vehicle.
This manual may qualify the location of a component as left-hand side or right-hand side. The side is determined when facing forward in the seat.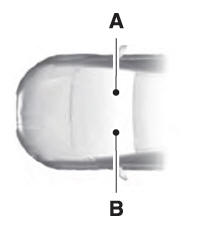 Right-hand side.
Left-hand side.
These are some of the symbols you may see on your vehicle. Air conditioning system Air conditioning system lubricant type Anti-lock braking system Avoid smoking, flames or sparks Battery Battery acid Brake fluid - non petroleum based Brake system Brake system Cabin air filter Check fuel cap Child safety door lock or unlock Child seat lower anchor Child seat tether anchor Cruise co..
Other information:
Argentina Brazil Djibouti Ghana Indonesia Jamaica Malaysia RALM/61A/0318/S(18-0852) Mauritania Moldova Morocco Pakistan Paraguay Serbia Singapore South Africa South Korea R-CMM-DLH-L2C0065TR Syria Taiwan, China Ukraine United Arab Emirates United States and Canada WARNING: Changes or modifications not expressively approved by the party responsible for compliance could void th..
WARNING: Do not park, idle or drive your vehicle on dry grass or other dry ground cover. The emission system heats up the engine compartment and exhaust system, creating the risk of fire. WARNING: The normal operating temperature of the exhaust system is very high. Never work around or attempt to repair any part of the exhaust system until it has cooled. Use special care when working arou..
Categories
WARNING: If the tire does not inflate to the recommended tire pressure within 15 minutes, stop and call roadside assistance.
WARNING: The power plug may get hot after use and should be handled carefully when unplugging.
Check the air pressure of your tires as follows: