Lincoln Corsair: 911 Assist / What Is 911 Assist
911 Assist is a SYNC system feature that can call for help if you are in an accident. If a crash deploys an airbag, excluding knee airbags and rear inflatable seatbelts [if equipped], or activates the fuel pump shut-off, your SYNC-equipped vehicle may be able to contact emergency services by dialing 911 through a paired and connected Bluetooth enabled phone. You can learn more about the 911 Assist feature, by visiting:
Website
Not all crashes will deploy an airbag or activate the fuel pump shut-off, the triggers for 911 Assist. If a connected cell phone sustains damage or loses its connection to SYNC during a crash, SYNC will search for and try to connect to a previously paired cell phone. SYNC will then attempt to call the emergency services.
Before making the call:
SYNC provides a short window of time, about 10 seconds, to cancel the call. If you fail to cancel the call, SYNC attempts to dial 911.
SYNC says the following, or a similar message: SYNC will attempt to call 911, to cancel the call, press Cancel on your screen or press and hold the phone button on your steering wheel.
If you do not cancel the call, and SYNC makes a successful call, a pre-recorded message plays for the 911 operator, and then the occupant(s) in your vehicle is able to talk with the operator. Be prepared to immediately provide your name, phone number and location, because not all 911 systems are capable of receiving this information electronically.
During an emergency call, the system transmits vehicle data to the emergency service.
Emergency Call Requirements WARNING: Do not wait for 911 Assist to make an emergency call if you can do it yourself. Dial emergency services immediately to avoid delayed response time which could increase the risk of serious injury or death after a crash...
Other information:
This device complies with Part 15 of the FCC Rules and with Industry Canada license-exempt RSS standard(s). Operation is subject to the following two conditions: (1) This device may not cause harmful interference, and (2) This device must accept any interference received, including interference that may cause undesired operation...
WARNING: Batteries contain sulfuric acid and produce explosive gases. Work in a well-ventilated area. Do not allow the battery to come in contact with flames, sparks or burning substances. Avoid contact with skin, eyes or clothing. Shield eyes when working near the battery to protect against possible splashing of acid solution...
Categories
Wet or winter driving conditions with ice, snow or salty road mist can cause inconsistent and unexpected wiping or smearing.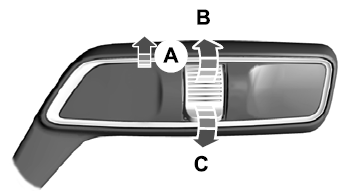 Autowipers On. High sensitivity. Low sensitivity.