Lincoln Corsair: Seats / Ventilated Seats
Note: The ventilated seats switch on during a remote start if they are enabled. The ventilated seats may also switch on when you start your vehicle if they were on when you previously switched your vehicle off.
Do not do the following:
Spill liquid on the front seats. This may cause the air vent holes to become blocked and not work properly.
Place cargo or objects under the seats. They may block the air intake causing the air vents to not work properly.
The ventilated seats only function when the engine is running.
Press this symbol to cycle through the various ventilation settings and off. More indicator lights indicate higher fan speeds.
If the engine falls below 350 RPM while the ventilated seats are on, the feature turns itself off. You need to reactivate it.
Note: To improve comfort, use the ventilated seats along with the vehicle's air conditioning system.
Front Seats WARNING: People who are unable to feel pain to their skin because of advanced age, chronic illness, diabetes, spinal cord injury, medication, alcohol use, exhaustion or other physical conditions, must exercise care when using the heated seat...
Other information:
WARNING: Normal cruise control will not brake when your vehicle is approaching slower vehicles. Always be aware of which mode you have selected and apply the brakes when necessary. Use the touchscreen to select the following: Select Settings. Select Driver Assist.. Select Cruise Control. Select Normal. The cruise control indicator replaces the adaptive cruise control indicator if you ..
Argentina Brazil Djibouti Ghana Indonesia Jamaica Malaysia RALM/61A/0318/S(18-0852) Mauritania Moldova Morocco Pakistan Paraguay Serbia Singapore South Africa South Korea R-CMM-DLH-L2C0065TR Syria Taiwan, China Ukraine United Arab Emirates United States and Canada WARNING: Changes or modifications not expressively approved by the party responsible for compliance could void th..
Categories
Locating the Rear View Camera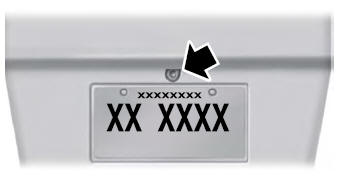 The rear view camera is on the tailgate.
Locating the Front View Camera