Lincoln Corsair: Keys and Remote Controls / General Information on Radio Frequencies
This device complies with Part 15 of the FCC Rules and with Industry Canada license-exempt RSS standard(s). Operation is subject to the following two conditions: (1) This device may not cause harmful interference, and (2) This device must accept any interference received, including interference that may cause undesired operation.
WARNING: Changes or modifications not expressively approved by the party responsible for compliance could void the user's authority to operate the equipment. The term "IC:" before the radio certification number only signifies that Industry Canada technical specifications were met.
The typical operating range for your transmitter is approximately 33 ft (10 m). Vehicles with the remote start feature will have a greater range.
One of the following could cause a decrease in operating range:
Weather conditions.
Nearby radio towers.
Structures around the vehicle.
Other vehicles parked next to your vehicle.
The radio frequency used by your remote control can also be used by other radio transmitters, for example amateur radios, medical equipment, wireless headphones, wireless remote controls, cell phones, battery chargers and alarm systems. If the frequencies are jammed, you will not be able to use your remote control. You can lock and unlock the doors with the key.
Note: Make sure to lock your vehicle before leaving it unattended.
Note: If you are in range, the remote control will operate if you press any button unintentionally.
Note: The remote control contains sensitive electrical components. Exposure to moisture or impact may cause permanent damage.
Intelligent Access (If Equipped)
The system uses a radio frequency signal to communicate with your vehicle and authorize your vehicle to unlock when one of the following conditions are met:
You activate the front exterior door handle switch.
You press the luggage compartment button.
You press a button on the transmitter.
If excessive radio frequency interference is present in the area or if the transmitter battery is low, you may need to mechanically unlock your door. You can use the mechanical key blade in your intelligent access key to open the driver door in this situation.
Other information:
Wash your vehicle regularly with cool or lukewarm water and a neutral pH shampoo, we recommend Motorcraft Detail Wash. Never use strong household detergents or soap, for example dish washing or laundry liquid. These products can discolor and spot painted surfaces. Never wash your vehicle when it is hot to the touch, or during strong or direct sunlight. Dry your vehicle with a chamo..
Principle of Operation WARNING: Vehicle modifications involving braking system, aftermarket roof racks, suspension, steering system, tire construction and wheel and tire size may change the handling characteristics of your vehicle and may adversely affect the performance of the electronic stability control system. In addition, installing any stereo loudspeakers may interfere with and adve..
Categories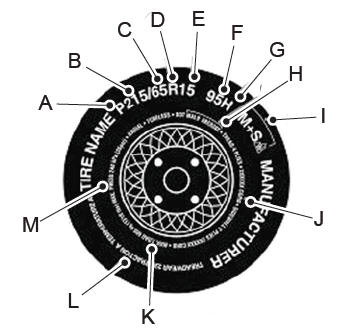 P215/65R15 95H is an example of a tire size, load index and speed rating. The definitions of these items are listed below. (Note that the tire size, load index and speed rating for your vehicle may be different from this example.)
P: Indicates a tire, designated by the Tire and Rim Association, that may be used for service on cars, sport utility vehicles, minivans and light trucks. Note: If your tire size does not begin with a letter this may mean it is designated by either the European Tire and Rim Technical Organization or the Japan Tire Manufacturing Association. 215: Indicates the nominal width of the tire in millimeters from sidewall edge to sidewall edge. In general, the larger the number, the wider the tire. 65: Indicates the aspect ratio which gives the tire's ratio of height to width. R: Indicates a radial type tire. 15: Indicates the wheel or rim diameter in inches. If you change your wheel size, you will have to purchase new tires to match the new wheel diameter. 95: Indicates the tire's load index. It is an index that relates to how much weight a tire can carry. You may find this information in your owner's manual. If not, contact a local tire dealer.