Lincoln Corsair: Maintenance / General Information
Have your vehicle serviced regularly to help maintain its roadworthiness and resale value. There is a large network of authorized dealers that are there to help you with their professional servicing expertise. We believe that their specially trained technicians are best qualified to service your vehicle properly and expertly. They are supported by a wide range of highly specialized tools developed specifically for servicing your vehicle.
If your vehicle requires professional service, an authorized dealer can provide the necessary parts and service. Check your warranty information to find out which parts and services are covered.
Use only recommended fuels, lubricants, fluids and service parts conforming to specifications. Motorcraft® parts are designed and built to provide the best performance in your vehicle.
Precautions
Do not work on a hot engine.
Make sure that nothing gets caught in moving parts.
Do not work on a vehicle with the engine running in an enclosed space, unless you are sure you have enough ventilation.
Keep all open flames and other burning material (such as cigarettes) away from the battery and all fuel related parts.
Working with the Engine Off
Set the parking brake and shift the transmission to park (P).
Switch off the engine.
Block the wheels.
Working with the Engine On
WARNING: To reduce the risk of vehicle damage and personal burn injuries, do not start your engine with the air cleaner removed and do not remove it while the engine is running.
Set the parking brake and shift the transmission to park (P).
Block the wheels.
Opening the Hood Open the left-hand front door. Fully pull the hood release lever and let it completely retract.Note: This action releases the hood latch...
Other information:
Safe operation of your vehicle requires that your tires are properly inflated. Remember that a tire can lose up to half of its air pressure without appearing flat. Every day before you drive, check your tires. If one looks lower than the others, use a tire gauge to check pressure of all tires and adjust if required...
WARNING: Driving while distracted can result in loss of vehicle control, crash and injury. We strongly recommend that you use extreme caution when using any device that may take your focus off the road. Your primary responsibility is the safe operation of your vehicle...
Categories
Wet or winter driving conditions with ice, snow or salty road mist can cause inconsistent and unexpected wiping or smearing.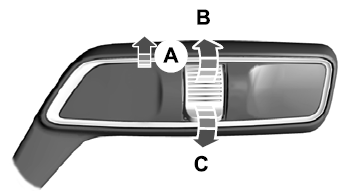 Autowipers On. High sensitivity. Low sensitivity.