Lincoln Corsair: Rear Drive Axle/Differential / Description and Operation - Rear Drive Axle and Differential - Overview
The RDU is available with 2.58 drive ratio.
Rear Drive Axle and Differential
The rear drive axle and differential unit (RDU ) is a cast aluminum differential assembly located in the rear of the vehicle consisting of the following components:
Crown wheel and pinion
An electrically activated and mechanically engaged clutch pack acting on the rear drive axles, that applies or removes torque from the RDU to the rear axles when commanded
When commanded by the AWD the RDU Clutch synchronizes the drive shaft speed with the rear wheel speed and allows drive torque from the PTU (Power Transfer Unit) to be fed to the rear axles.
The RDU system consists of the following components:
RDU actuator motor
Spur and idler gear
Ball ramp drive plate
Ball ramp driven plate
Drive shaft coupling (Plunge style joint companion flange)
Drive shaft speed sensor
Rear differential carrier and inner or outer covers
Differential case assembly
Intermediate shaft (splined to clutch discs)
Multi-plate clutch pack
Clutch pack housing (splined to clutch plates)
Hypoid gears
Left and right output seals
System Operation System Diagram Item Description 1 Drive Mode 2 PCM 3 ABS 4 Accelerator Pedal Position 5 BCM 6 Ignition Status 7 GWM 8 AWD 9 Speed / Position sensor 10 Actuator motor 11 Steering Wheel Angle 12 Vehicle Acceleration 13 Wheel Speed 14 RDU R..
Other information:
Materials Name Specification Motorcraft® Silicone Brake Caliper Grease and Dielectric CompoundXG-3-A ESA-M1C200-AESE-M1C171-A Removal NOTICE: Do not pull the engine appearance cover forward or sideways to remove. Failure to press straight upward on the underside of the cover at the attachment points may result in damage to the cover or engine components. ..
Special Tool(s) / General Equipment Wheel Alignment System Adjustment NOTICE: Suspension fasteners are critical parts that affect the performance of vital components and systems. Failure of these fasteners may result in major service expense. Use the same or equivalent parts if replacement is necessary. Do not use a replacement part of lesser quality or substitute design. Tighte..
Categories
Wet or winter driving conditions with ice, snow or salty road mist can cause inconsistent and unexpected wiping or smearing.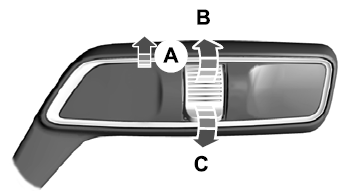 Autowipers On. High sensitivity. Low sensitivity.