Lincoln Corsair: Towing / Towing a Trailer
WARNING: Towing trailers beyond the maximum recommended gross trailer weight exceeds the limit of your vehicle and could result in engine damage, transmission damage, structural damage, loss of vehicle control, vehicle rollover and personal injury.
WARNING: Do not exceed the GVWR or the GAWR specified on the certification label.
Note: See Recommended Towing Weights.
Your vehicle may have electrical items, such as fuses or relays, related to towing.
Your vehicle's load capacity designation is by weight, not by volume, so you cannot necessarily use all available space when loading a vehicle or trailer.
Towing a trailer places an extra load on your vehicle's engine, transmission, axle, brakes, tires and suspension. Inspect these components periodically during, and after, any towing operation.
Load Placement
To help minimize how trailer movement affects your vehicle when driving:
Load the heaviest items closest to the trailer floor.
Load the heaviest items centered between the left and right side trailer tires.
Load the heaviest items above the trailer axles or just slightly forward toward the trailer tongue. Do not allow the final trailer tongue weight to go above or below 10-15% of the loaded trailer weight.
Select a ball mount with the correct rise or drop and load capacity. When both the loaded vehicle and trailer are connected, the trailer frame should be level, or slightly angled down toward your vehicle, when viewed from the side.
When driving with a trailer or payload, a slight takeoff vibration or shudder may be present due to the increased payload weight. Additional information regarding proper trailer loading and setting your vehicle up for towing is located in another chapter of this manual.
You can also find information in the RV & Trailer Towing Guide available at your authorized dealer, or online.

Trailer Sway Control WARNING: Turning off trailer sway control increases the risk of loss of vehicle control, serious injury or death. Ford does not recommend disabling this feature except in situations where speed reduction may be detrimental (such as hill climbing), the driver has significant trailer towing experience, and can control trailer sway and maintain safe operation...
Other information:
E Clutch Exploded View Item Description 1 Torque converter 2 Input shaft 3 Reaction carrier 4 Snap ring 5 E (5, 6, 7, 8) clutch pressure plate 6 E (5, 6, 7, 8) clutch fiber plates 7 E (5, 6, 7, 8) clutch steel plates 8 Sun gear 9 T..
Special Tool(s) / General Equipment Feeler Gauge Check NOTE: Refer to the appropriate Section 303-01 for the specification. NOTE: Make sure all cylinder head surfaces are clear of any gasket material, silicone sealant, oil and coolant. The cylinder head surface must be clean and dry before running a flatness check. NOTE: Use a Straightedge that is calibrated by th..
Categories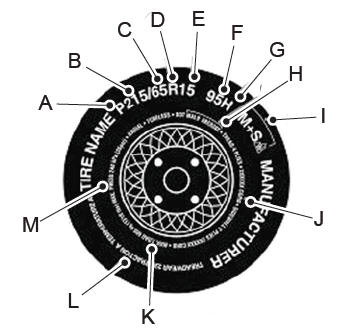 P215/65R15 95H is an example of a tire size, load index and speed rating. The definitions of these items are listed below. (Note that the tire size, load index and speed rating for your vehicle may be different from this example.)
P: Indicates a tire, designated by the Tire and Rim Association, that may be used for service on cars, sport utility vehicles, minivans and light trucks. Note: If your tire size does not begin with a letter this may mean it is designated by either the European Tire and Rim Technical Organization or the Japan Tire Manufacturing Association. 215: Indicates the nominal width of the tire in millimeters from sidewall edge to sidewall edge. In general, the larger the number, the wider the tire. 65: Indicates the aspect ratio which gives the tire's ratio of height to width. R: Indicates a radial type tire. 15: Indicates the wheel or rim diameter in inches. If you change your wheel size, you will have to purchase new tires to match the new wheel diameter. 95: Indicates the tire's load index. It is an index that relates to how much weight a tire can carry. You may find this information in your owner's manual. If not, contact a local tire dealer.