Lincoln Corsair: High Voltage Battery / General Information
WARNING: This battery pack should only be serviced by an authorized electric vehicle technician. Improper handling can result in personal injury or death.
WARNING: Apply the parking brake, shift into park (P), switch the ignition off and remove the key before you open the hood or have any service or repair work completed. If you do not switch the ignition off, the engine could restart at any time. Failure to follow this instruction could result in personal injury or death.
WARNING: Do not touch the electronic ignition system parts after you have switched the ignition on or when the engine is running. The system operates at high voltage. Failure to adhere to this warning could result in serious personal injury or death.
WARNING: Keep your hands and clothing clear of the engine cooling fan.
Note: The high-voltage battery does not require regular service maintenance.
Your vehicle consists of various high-voltage components and wiring. All of the high-voltage power flows through specific wiring assemblies labeled as such or covered with a solid orange convolute, or orange striped tape, or both. Do not come in contact with these components.
The high-voltage battery pack contains a lithium-ion battery. The pack is underneath the vehicle. The high-voltage battery system uses an advanced liquid heating and cooling system to regulate the high-voltage battery temperature and help maximize high-voltage battery life.
IMPORTANT SAFETY INSTRUCTIONS WARNING: Do not use the dual-voltage charging cord in commercial garages. WARNING: This equipment has arcing or sparking parts...
Other information:
Special Tool(s) / General Equipment Feeler Gauge Check Remove the valve cover. Refer to: Valve Cover (303-01A Engine - 2.0L EcoBoost (177kW/240PS) – MI4, Removal and Installation). Remove the RH front fender splash shield...
Your satisfaction is important to Ford Motor Company and to your dealer. If a warranty concern has not been resolved using the three-step procedure outlined earlier in this chapter in the Getting the Services you need section, you may be eligible to participate in the BBB AUTO LINE program...
Categories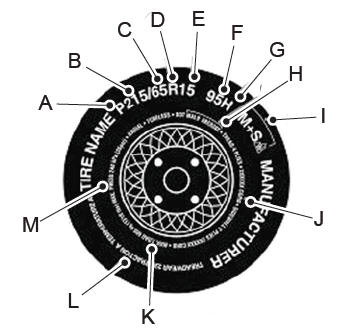 P215/65R15 95H is an example of a tire size, load index and speed rating. The definitions of these items are listed below. (Note that the tire size, load index and speed rating for your vehicle may be different from this example.)
P: Indicates a tire, designated by the Tire and Rim Association, that may be used for service on cars, sport utility vehicles, minivans and light trucks. Note: If your tire size does not begin with a letter this may mean it is designated by either the European Tire and Rim Technical Organization or the Japan Tire Manufacturing Association. 215: Indicates the nominal width of the tire in millimeters from sidewall edge to sidewall edge. In general, the larger the number, the wider the tire. 65: Indicates the aspect ratio which gives the tire's ratio of height to width. R: Indicates a radial type tire. 15: Indicates the wheel or rim diameter in inches. If you change your wheel size, you will have to purchase new tires to match the new wheel diameter. 95: Indicates the tire's load index. It is an index that relates to how much weight a tire can carry. You may find this information in your owner's manual. If not, contact a local tire dealer.